Sku:

30060

Vendor: Amigo Foods Store
Yoki Farofa Tradicional 500 grs. (Farinha de Mandioca Temperada)
Discover the heart of Brazilian cuisine with Yoki Farofa Tradicional, the authentic seasoned cassava flour that brings the essence of Brazil to your table. Yoki's 500g package is the perfect introduction to one of Brazil's most beloved side dishes, offering a unique blend of textures and flavors that are integral to Brazilian cooking.
Key Features:
Authentic Brazilian Farofa: Yoki has perfected the blend of spices and cassava flour to deliver a genuine taste of Brazil's traditional farofa.
Versatile Use: Ideal as a side dish, garnish, or cooking ingredient, Farofa Tradicional can enhance the flavor of meats, beans, and salads.
Natural Ingredients: Made with natural cassava flour and a savory mix of seasonings, it's a natural choice for adding depth to your meals.
Convenient Packaging: The 500g package ensures you have enough Farofa to experiment with different recipes and find your favorite way to enjoy it.
Easy to Prepare: Simply sprinkle over your dish and enjoy the added texture and flavor, or cook lightly in a pan for a toasted taste.
Bring a taste of Brazil into your kitchen with Yoki Farofa Tradicional, the perfect addition to any meal seeking a touch of Brazilian authenticity.
Whether you're preparing a classic feijoada, grilling meats, or simply looking for a flavorful garnish for your vegetable dishes, Yoki Farofa Tradicional offers a crunchy texture and rich taste that complements any recipe.
It's also a quick and convenient way to add an extra dimension to your meals — just a sprinkle is enough to transform ordinary dishes into extraordinary ones.
View full details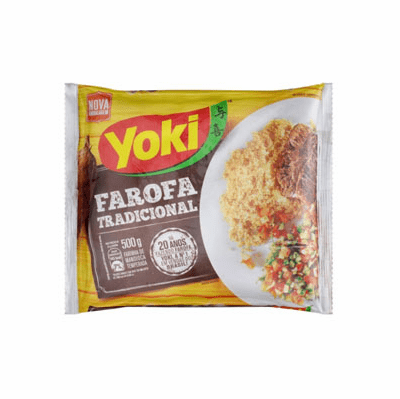 Yoki Farofa Tradicional 500 grs. (Farinha de Mandioca Temperada)