Sku:

BR332

Vendor: Amigo Foods Store
Tirolez Requeijao Cremoso 200 grs (7.05 oz)
Discover the authentic taste of Brazil with Tirolez Requeijao Cremoso, the beloved traditional cream cheese spread that's a staple in every Brazilian household. This 200g (7.05 oz) container of creamy delight is a versatile must-have in your kitchen, whether you're aiming to add a touch of Brazilian flair to your recipes or simply enjoy a rich, savory spread.
Tirolez Requeijao Cremoso offers an unrivaled creamy texture and a full-bodied flavor that's perfect for a variety of culinary uses.
From spreading on freshly baked bread to enhancing the richness of your favorite dishes, this cream cheese is a testament to the authentic Brazilian way of life.
Key Features:
Authentic Brazilian Flavor: Experience the true essence of Brazil with every bite, thanks to Tirolez's commitment to traditional flavors and techniques.
Creamy Texture: Tirolez Requeijao Cremoso boasts a smooth, spreadable consistency that melts beautifully on warm toast and blends seamlessly into recipes.
Versatile Use: Ideal for breakfast, snacks, or gourmet recipes, this Brazilian cream cheese enhances any dish, be it sweet or savory.
Convenient Packaging: The 200g size is perfect for individual use or sharing with the family, and the resealable tub keeps the product fresh for longer.
With Tirolez Requeijao Cremoso, bring the heart of Brazil to your table and indulge in a culinary journey that tantalizes your taste buds with every creamy spoonful.
Add this Brazilian delight to your cart today and elevate your meals with the true flavor of Brazil!
View full details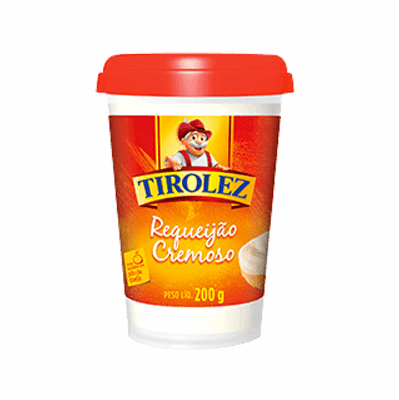 Tirolez Requeijao Cremoso 200 grs (7.05 oz)