Sku:

turron-sanchis-mira-jijona-nosugar

Vendor: Sanchis Mira
Turron Sin Azucar Jijona Sanchis Mira 200 grs. (7.oz)
Experience the authentic taste of Spain with the Turron Sin Azucar Jijona by Sanchis Mira. Crafted with a deep-rooted passion for tradition and quality, this delectable treat promises an unrivaled flavor journey without the added sugars.
Features:
Authentic Spanish Delicacy: Made following the centuries-old techniques from Jijona, a region renowned for its premium turron production.

Sugar-Free Indulgence: Enjoy the rich, soft, and smooth texture without worrying about added sugars. It's perfect for those watching their sugar intake or leading a healthier lifestyle.

High-Quality Ingredients: Crafted using the finest almonds and honey, it brings forth a unique flavor and texture that's distinct to Jijona-style turron.

Convenient Packaging: Comes in a 200 grs. (7.oz) package, making it easy to share with family and friends, or simply to savor on your own.

Versatile Usage: Perfect as a festive treat during the holiday season, a companion to your afternoon tea or coffee, or even as a gourmet gift for loved ones.
Taste the tradition of Spain with every bite of the Jijona Turron Sin Azucar  by Sanchis Mira. Experience a guilt-free indulgence that doesn't compromise on flavor!
View full details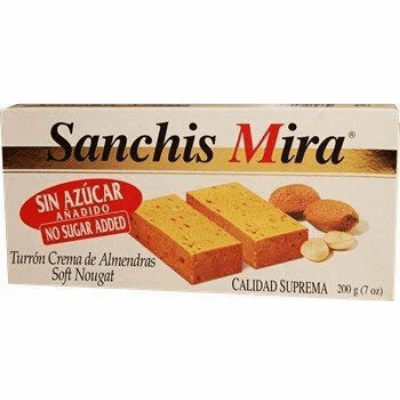 Turron Sin Azucar Jijona Sanchis Mira 200 grs. (7.oz)