Sku:

turron-jijona-sanchis-mira

Vendor: Sanchis Mira
Sanchis Mira Turron Jijona Etiqueta Negra Calidad Suprema 200 grs (7oz.)
Dive into the world of authentic Spanish flavors with Sanchis Mira Turron Jijona Etiqueta Negra. This luxurious treat, crafted with supreme quality ingredients, represents the epitome of traditional Spanish confectionery.
Features:
Authentic Origins: Hailing from the heart of Jijona in Spain, this Turron carries with it centuries of culinary tradition and expertise.

Calidad Suprema: As the "Etiqueta Negra" label suggests, this is not just any Turron. This is a supreme quality product, crafted with the finest selection of ingredients.

Texture & Taste: A soft, smooth, and delectably sticky texture paired with a rich almond flavor, this Turron melts in your mouth, leaving a lasting impression of Spain's culinary excellence.

Pure Ingredients: Made with the highest quality almonds and honey, this treat is a testament to the purity and simplicity of traditional Spanish sweets.

Perfect Gift: Packaged elegantly, this 200 grs (7oz.) Turron makes for a delightful gift during the holiday season or any special occasion. It's a taste of Spain that's sure to impress.
Serving Suggestions: Best enjoyed with a glass of Spanish wine or a warm beverage. Can also be paired with fruits or cheeses to create a gourmet dessert platter.
Storage Instructions: Keep in a cool, dry place. Avoid direct sunlight. Consume within the best-by date for optimal flavor.
---
Indulge in the rich heritage of Spanish sweets with Sanchis Mira Turron Jijona Etiqueta Negra Calidad Suprema. Every bite will transport you to the cobbled streets of Spain, where tradition and taste intertwine. Perfect for those who appreciate the finer things in life.
View full details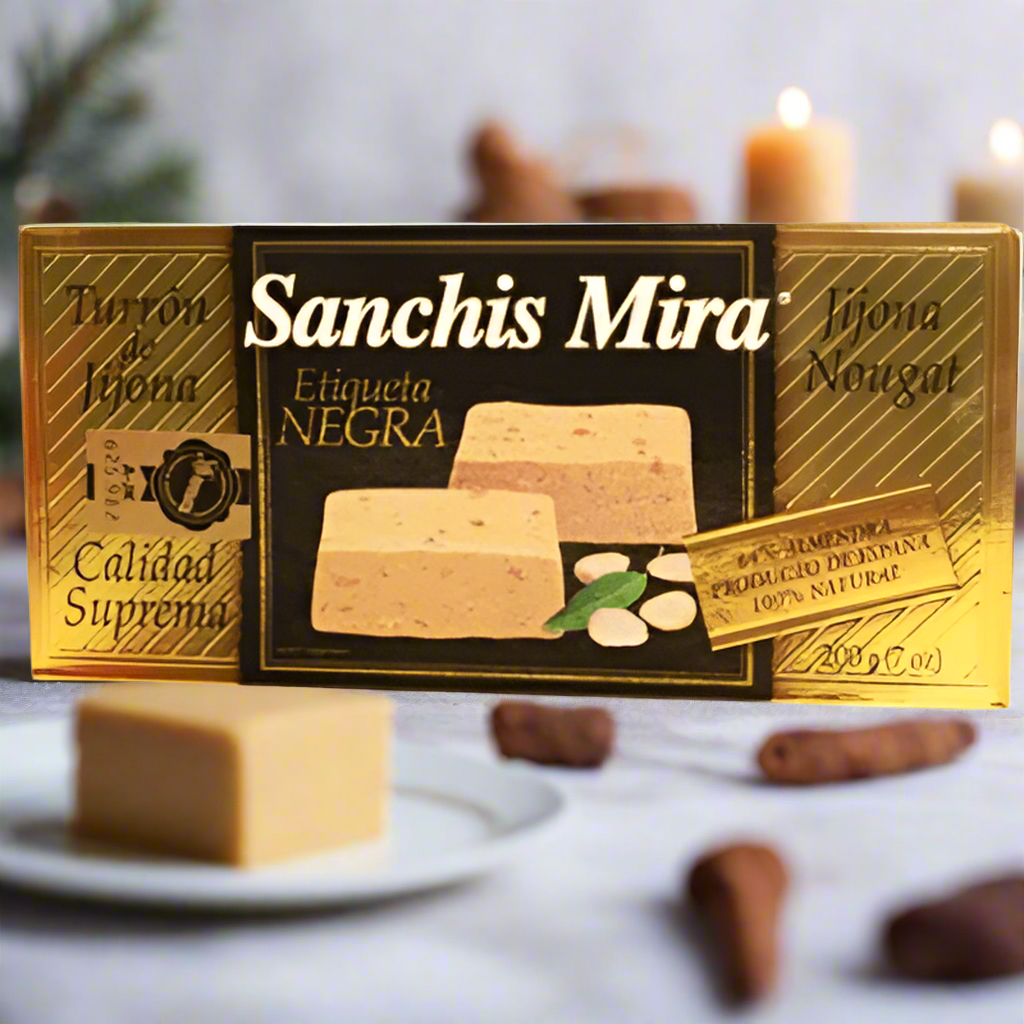 Sanchis Mira Turron Jijona Etiqueta Negra Calidad Suprema 200 grs (7oz.)