Sku:

SP990192

Vendor: El Almendro
El Almendro Turon Duro 200 grs (7 oz.)
Indulge in the timeless taste of Spain with El Almendro Turron Duro, a traditional Spanish nougat delight that promises to elevate your confectionery experience.
This 200g (7 oz.) bar of premium almond nougat is a culinary masterpiece, crafted with the finest ingredients to ensure a luxurious treat with every bite.
Product Features:
Authentic Spanish Turron: Imported directly from Spain, El Almendro is renowned for its commitment to traditional recipes and artisanal quality, offering an authentic taste of Spanish culture.

Premium Quality Almonds: Packed with select, high-quality almonds, this turron has a rich, nutty flavor and a satisfying crunch that almond lovers will cherish.

Traditional Recipe: Made following age-old methods, this duro (hard) turron embodies the classic texture and taste that has been enjoyed for generations during the holiday season and beyond.

Versatile Snack or Gift: Whether you're looking to treat yourself or searching for the perfect gift, this Spanish turron is ideal for any occasion. Enjoy it with coffee, as a dessert, or as a festive holiday offering.
El Almendro Turron Duro is more than just a candy; it's a slice of Spanish heritage that brings joy and flavor to your palate.
Ideal for those who appreciate gourmet international confectionery, this turron is a testament to the rich culinary traditions of Spain.
Order now and let the robust flavors of El Almendro transport you to the vibrant streets of Spain!
View full details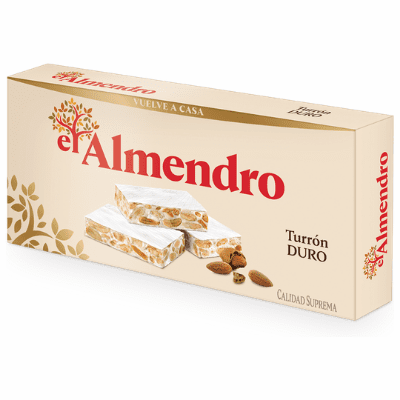 El Almendro Turon Duro 200 grs (7 oz.)