Sku:

SP88762

Vendor: Sanchis Mira
Sanchis Mira Turron de Yema 200 grs. (7oz.)
Delight your senses with the authentic taste of Spain, brought to you by the renowned confectionery artisans at Sanchis Mira. Turron de Yema is a traditional Spanish nougat confection, masterfully crafted using time-honored recipes that have been passed down through generations.
Key Features:
Authentic Flavor: Experience the rich and creamy essence of yolk-based nougat, melded with smooth almond undertones, to capture the heart of Spanish confectionery traditions.

Premium Ingredients: Made from the finest selection of fresh almonds and sweetened yolk, each bite is a testament to the superior quality and craftsmanship of Sanchis Mira.

Ideal for Gifting: Encased in elegant packaging, this Turron is a perfect gift for special occasions, holidays, or as a gourmet treat for confectionery connoisseurs.

Traditional Craftsmanship: Handmade with dedication and precision,
Turron de Yema maintains the authenticity and flavor cherished for centuries.
Serving Suggestions:
Serve as a dessert or enjoy it with a warm cup of coffee or tea. Its melt-in-your-mouth texture and unique flavor make it a delightful treat for any time of the day.
Storage Instructions:
Store in a cool, dry place away from direct sunlight. Once opened, ensure the packaging is sealed properly to maintain freshness.
---
Embrace a piece of Spain's rich culinary history with Turron de Yema by Sanchis Mira. A treat that promises both tradition and taste in every bite.
View full details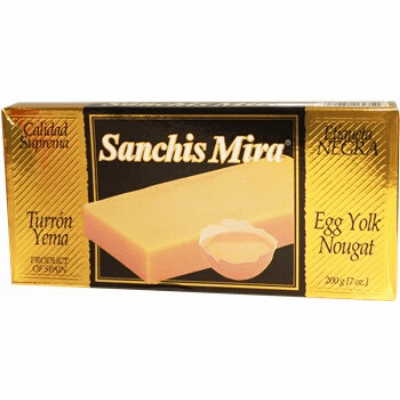 Sanchis Mira Turron de Yema 200 grs. (7oz.)