Sku:

SP88791

Vendor: Sanchis Mira
Sanchis Mira Turron de Mazapan 200 grs. (7oz.)
Dive into a world of exquisite taste with the Sanchis Mira Turron de Mazapan! This traditional Spanish delicacy is crafted with utmost precision to offer a luxurious blend of rich flavors and mouth-watering textures.
Key Features:
Authentic Spanish Recipe: Rooted in age-old traditions, the Turron de Mazapan is a beloved treat that hails from the vibrant culinary legacy of Spain.

Premium Ingredients: Made with the finest selection of almonds, sugar, and honey, its ingredients are sourced meticulously to ensure top-notch quality.

Perfect Texture: The mazapan, with its soft and slightly crumbly texture, offers a delightful contrast to the chewy and dense nature of the turron. Each bite is a tantalizing experience for the palate.

Versatile Delight: Whether you're celebrating a festive occasion or just indulging in a mid-day snack, Sanchis Mira Turron de Mazapan is the perfect choice.

Elegant Packaging: The 200 grs. (7oz.) pack not only ensures freshness but also makes it a classy gift option for loved ones.
Serving Suggestions:
Pair it with a glass of dessert wine or a warm cup of coffee to enhance its rich flavors. It can also be chopped and sprinkled over desserts for an added touch of elegance.
Storage Instructions:
Keep in a cool, dry place. Once opened, store in an airtight container to retain its freshness.
---
Experience the timeless charm of Spanish confections with Sanchis Mira Turron de Mazapan. It's not just a dessert, it's a journey through Spain's rich culinary heritage. Order now and indulge in a treat that transcends time!
View full details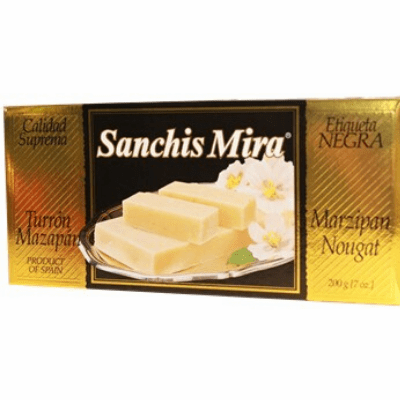 Sanchis Mira Turron de Mazapan 200 grs. (7oz.)