Sku:

turron-de-chocolate

Vendor: Castillo de Jijona
Castillo de Jijona Turrón Chocolate con Almendras Calidad Suprema 200 grs (7oz.)
Castillo de Jijona Turrón Chocolate con Almendras Calidad Suprema, a 200g (7oz.) delight that will transport your taste buds to the heart of Spain. Crafted with the utmost dedication to quality, this premium treat combines the finest ingredients to create a truly unforgettable culinary experience.
This Turrón Chocolate con Almendras is a heavenly fusion of rich, velvety chocolate and the crunch of almonds. Each bite is a symphony of flavors and textures that will leave you craving for more. The almonds, sourced from the sun-soaked Spanish orchards, bring a natural, nutty sweetness to complement the deep, luscious chocolate.
Made in the historic town of Jijona, known for its centuries-old tradition of producing the finest turrón, this sweet delicacy bears the mark of authentic Spanish craftsmanship. Castillo de Jijona takes great pride in preserving this heritage and delivering a product that exemplifies the highest standards of quality.
Perfect for indulging yourself or sharing with loved ones, our Turrón Chocolate con Almendras is a true embodiment of Spanish culinary excellence. Whether you savor it as an after-dinner treat, a special gift, or a snack to satisfy your cravings, its irresistible taste and aroma will leave a lasting impression.
Experience the taste of Spain with Castillo de Jijona Turrón Chocolate con Almendras Calidad Suprema, and elevate your culinary journey to new heights. Order your 200g (7oz.) package today and embark on a delightful adventure through the flavors of Spain, delivered right to your doorstep. Discover why this premium turrón is the perfect blend of tradition, quality, and irresistible taste.
*Supreme quality
View full details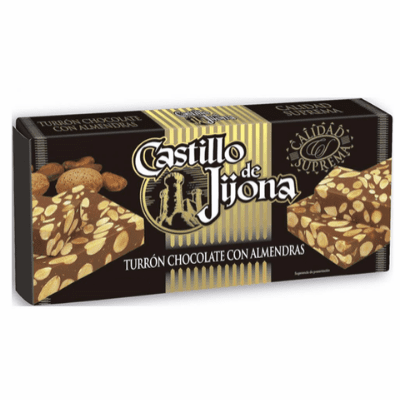 Castillo de Jijona Turrón Chocolate con Almendras Calidad Suprema 200 grs (7oz.)