Sku:

COL9733

Vendor: Amigo Foods Store
Tarrito Rojo Kola Granulada Tradicional 11.5 oz
Energize Your Day the Authentic Way!
Product Description:
Tarrito Rojo's Kola Granulada Tradicional is a multivitamin granulated dietary supplement that represents Colombia's cherished drink traditions. Every 11.6 oz bottle encapsulates the spirit, flavor, and vigor of its native roots.
Features:
Traditional Recipe: This product stays true to its ancestral recipe, offering you the genuine taste of Colombian kola granulada.

Natural Ingredients: Made with high-quality, natural ingredients that provide an authentic experience with every sip.

Energy Boost: Ideal for those who require an invigorating energy lift. Whether it's a morning pick-me-up or a mid-afternoon boost, Tarrito Rojo delivers.

Versatile Use: Enjoy it as a standalone beverage, mix it with water or your favorite juice, or sprinkle it over desserts and ice creams to add that extra flair.

Compact Packaging: The 11.5 oz bottle is perfect for on-the-go, ensuring you have your energy boost wherever life takes you.
Taste and Tradition in Every Drop
Drawing from decades of experience and culture, Tarrito Rojo's Kola Granulada Tradicional is not just a beverage; it's an experience.
Note: Always consume in moderation and read the label before use. Store in a cool, dry place.
View full details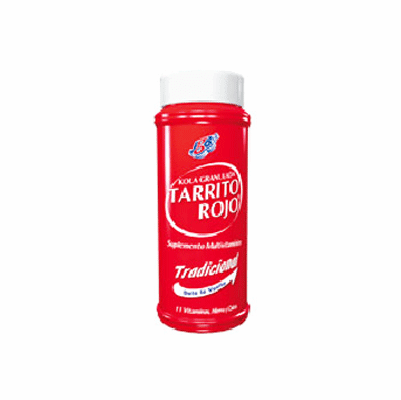 Tarrito Rojo Kola Granulada Tradicional 11.5 oz