Sku:

BR21512

Vendor: Suspiro
Suspiro Boca do Forno 160 grs.
Enjoy the sweet symphony of Boca do Forno Suspiro, the quintessential Brazilian meringue that's as airy as a whisper and as delightful as a Brazilian carnival.
These featherlight confections are the perfect balance of crisp and melt-in-your-mouth textures, a heavenly treat for those who appreciate the finer things in life.
Key Features:
Authentic Brazilian Flavor: Each 160g pack is filled with the traditional taste of Brazil, offering a genuine experience of the country's beloved sweet treat.

Perfectly Sweet: Expertly crafted with the perfect amount of sweetness, Suspiros are designed to satisfy your sweet tooth without overwhelming your palate.

Artisan Quality: Made with the finest ingredients and a dedication to the age-old craft of Brazilian baking, Boca do Forno Suspiros are a testament to artisan quality.

Versatile Treat: Whether accompanying a cup of Brazilian coffee, serving as a light dessert, or simply enjoyed on their own, these meringues are as versatile as they are delicious.

Convenient Packaging: The 160g packaging ensures freshness, making it easy to take these delightful treats wherever you go, or share them with friends and family.
Usage Tips:
Event Favors: Make your event memorable by giving out these delightful Suspiros as party favors.
Creative Recipes: Crush them as a topping for your ice cream or incorporate them into your dessert recipes for an extra crunch.
Tea Time: Pair them with your favorite tea or a traditional Brazilian coffee for the ultimate afternoon treat.
Don't miss out on this indulgent Brazilian experience. Add the Boca do Forno Suspiro to your cart now and savor the taste of Brazil delivered straight to your doorstep.
View full details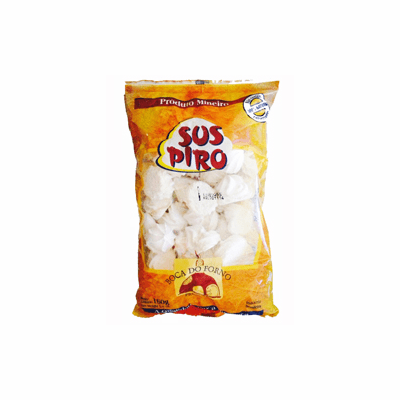 Suspiro Boca do Forno 160 grs.