Sku:

BR9812

Vendor: Amigo Foods Store
Sonho de Valsa Lacta Bombom 1 kg.
Discover the heart of Brazil's confectionery delights with the iconic Sonho de Valsa Lacta Bombom. This 1kg pack is your passport to a world of creamy, dreamy chocolate that Brazilians have adored for generations.
Whether you're a chocolate aficionado or looking to indulge in new sweet experiences, Sonho de Valsa is the treat that captures the essence of Brazilian joy and passion.
Key Features:
Authentic Brazilian Product: Directly imported from Brazil, ensuring that you experience the genuine taste that has made Sonho de Valsa a household name.
Premium Quality Ingredients: Crafted with the finest selection of ingredients, including rich milk chocolate, creamy cashew nut filling, and a delicate wafer layer.
Bulk 1kg Pack: Perfect for sharing at parties, family gatherings, or as a thoughtful gift for a loved one who appreciates the sweeter things in life.
Beautifully Packaged: Each bombom is individually wrapped in the signature Sonho de Valsa packaging, making it an elegant addition to any candy dish or buffet.
Versatile Delight: Ideal for dessert tables, as a companion to coffee, or as an anytime treat that brings a touch of Brazilian sweetness to your day.
The Sonho de Valsa bombom, meaning "Waltz Dream," has been capturing hearts since its inception, and for a good reason.
The outer layer of sumptuous milk chocolate yields to a crispy wafer, which envelops a smooth, velvety cashew cream filling. It's a ballet of flavors that dances on the palate, embodying the rhythm and romance of Brazil.
Incorporate this sumptuous Brazilian treat into your life and savor the authentic taste of Sonho de Valsa Lacta Bombom – where every bite is a step into the joyous dance of Brazilian flavor.
Order now and let the festivity of flavors begin!
View full details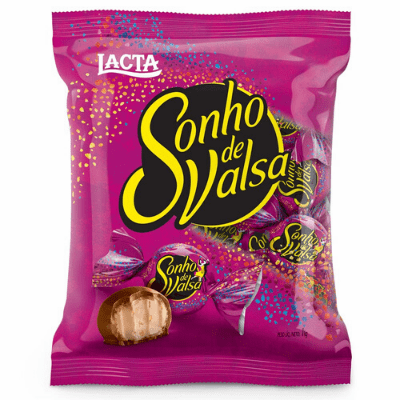 Sonho de Valsa Lacta Bombom 1 kg.