Sku:

SP88717

Vendor: Sanchis Mira
Sanchis Mira Turron de Yema Tostada Etiqueta Negra Calidad Suprema 200 grs. (7oz.)
Experience the rich tradition of Spanish confectionery with the Turron de Yema Tostada Sanchis Mira Etiqueta Negra Calidad Suprema. Crafted with the utmost dedication to quality, this delicacy is a true testament to the age-old art of Spanish turron-making.
Features:
Authentic Spanish Delicacy: A timeless treat hailing from the heart of Spain, the Turron de Yema Tostada offers a delightful fusion of sweet and toasted flavors.

Supreme Quality: Bearing the "Etiqueta Negra" (Black Label) and "Calidad Suprema" (Supreme Quality) stamps, this product assures unmatched quality, taste, and authenticity.

Exquisite Ingredients: Made with the finest selection of almonds, honey, sugar, and egg yolks, each bite transports you to the Spanish countryside.

Unique Toasted Finish: The toasting of the yema (egg yolk) on the surface gives the turron its characteristic caramelized aroma and distinctive golden-brown hue.

Perfect for Celebrations: Whether it's Christmas, a family gathering, or simply an evening of indulgence, Turron de Yema Tostada makes any occasion special.
Tasting Notes: Upon first bite, the delicate crunch of the turron gives way to a creamy, melt-in-your-mouth texture. The toasted yema offers a sublime caramelized note, perfectly complementing the nutty undertones of the almond base.
Storage Instructions: Keep in a cool, dry place, away from direct sunlight. Once opened, store in an airtight container to retain its freshness.
---
Indulge in a piece of Spanish tradition, and let the Turron de Yema Tostada Sanchis Mira Etiqueta Negra Calidad Suprema elevate your confectionery experience. Perfect as a gourmet gift or a personal treat, this turron is a celebration of flavors in every bite.
View full details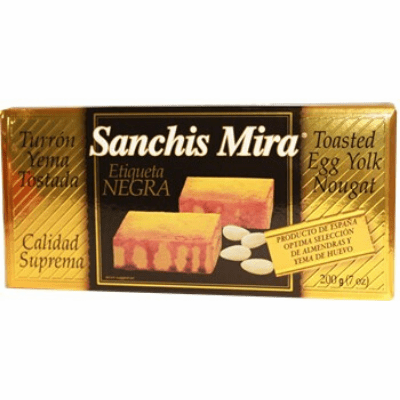 Sanchis Mira Turron de Yema Tostada Etiqueta Negra Calidad Suprema 200 grs. (7oz.)