Sku:

SP58214

Vendor: Amigo Foods Store
Sanchis Mira Turron Yema Tostada Sin Azucar (Toasted Egg Yolk Nougat) - Net.Wt 7oz
Indulge in a timeless Spanish delight with Sanchis Mira's Turron Yema Tostada Sin Azucar – a luxurious toasted egg yolk nougat made without sugars. Expertly crafted, this treat promises a rich and authentic taste, capturing the very essence of traditional Spanish confectionery.
---
Key Features:
Authentic Flavor: Experience the genuine taste of Spain with our Turron Yema Tostada, created using age-old recipes passed down through generations.

Sugar-Free Indulgence: Crafted without added sugars, it's a treat that allows everyone, including those watching their sugar intake, to indulge without compromise.

Premium Ingredients: Made with the finest quality egg yolks, toasted to perfection, ensuring a rich flavor and smooth texture in every bite.

Perfect for Celebrations: Whether it's Christmas, a family gathering, or simply an evening treat, Sanchis Mira Turron is the ideal accompaniment to any festive occasion.

Compact & Elegantly Packaged: With a net weight of 7oz, it's the perfect size for gifting, sharing, or savoring on your own. The packaging exudes elegance, making it a suitable gift for loved ones.
---
Tasting Notes:
Upon opening, you're met with the irresistible aroma of toasted egg yolks. Each bite reveals a delicate balance of sweetness, combined with the rich flavor of the egg yolks and a hint of nuttiness. The texture is smooth and slightly chewy, melting in the mouth to leave a memorable aftertaste.
---
Storage Instructions:
To maintain the product's optimal quality, store in a cool, dry place, away from direct sunlight.
---
About Sanchis Mira:
A trusted name in Spanish confectionery, Sanchis Mira has been crafting exceptional turron and sweets for over a century. Commitment to quality, traditional techniques, and innovation sets this brand apart, making it a favorite choice for those who seek genuine Spanish flavors.
---
Bring a taste of Spain to your table with Sanchis Mira Turron Yema Tostada Sin Azucar – a confectionery masterpiece that speaks of tradition, quality, and indulgence.
View full details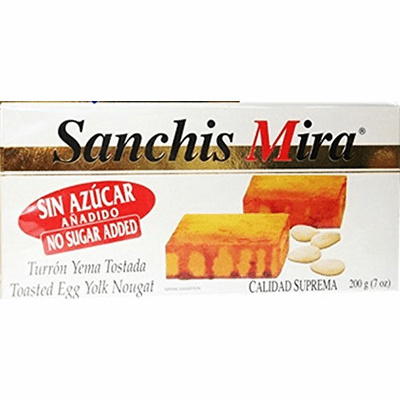 Sanchis Mira Turron Yema Tostada Sin Azucar (Toasted Egg Yolk Nougat) - Net.Wt 7oz