Sku:

SP041331062282

Vendor: Sanchis Mira
Sanchis Mira Turron Imperial al Chocolate Etiqueta Negra, Calidad Suprema 200g (7oz)
Indulge in the opulence of Spain's rich culinary heritage with the Sanchis Mira Turron Imperial al Chocolate Etiqueta Negra. Crafted with unwavering dedication to quality, this "Calidad Suprema" Turron offers a luxurious gastronomic experience that's unmatched.
Premium Quality: As suggested by its "Etiqueta Negra" (Black Label), this Turron signifies the pinnacle of quality in the world of gourmet sweets. Made with the finest ingredients, every bite assures a rich and intense flavor.

Delectable Taste: Infused with rich chocolate, this Turron variant is an irresistible treat for chocolate lovers. Its smooth texture combined with the gentle crunch of almonds is a feast for the palate.

Traditional Recipe: Sanchis Mira's long-standing tradition of Turron-making is evident in this masterpiece. Drawing inspiration from age-old recipes, it brings the authentic taste of Spain to your table.

Perfect Gift: Housed in a sleek and elegant packaging, this 200g (7oz) bar makes for a thoughtful gift during festive seasons, or for any special occasion warranting a touch of sweetness.

Storage Instructions: Keep in a cool, dry place to maintain its delectable essence and texture. Avoid exposure to direct sunlight.
---
Elevate your dessert experience or coffee break moments with the unparalleled taste of the Sanchis Mira Turron Imperial al Chocolate Etiqueta Negra. It's not just a treat; it's a journey through the rich landscapes of Spanish confectionery.
View full details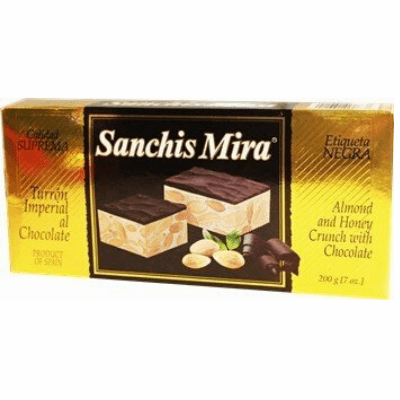 Sanchis Mira Turron Imperial al Chocolate Etiqueta Negra, Calidad Suprema 200g (7oz)