Sku:

SP041331062749

Vendor: Sanchis Mira
Sanchis Mira Turron Imperial con Almendras Calidad Suprema Sin Azucar Anadido 200g (7oz)
Indulge in the exquisite taste of Spain with Sanchis Mira Turron Imperial! This almond-packed delight is the epitome of Mediterranean indulgence, showcasing the rich history and tradition of Spanish confectionery.
Key Features:
Authentic Spanish Flavor: Crafted using time-honored recipes and methods, Sanchis Mira Turron provides a genuine taste of Spanish festivities.

High-Quality Almonds: Packed with premium-quality almonds, each bite gives you a crunchy texture and the natural, nutty goodness of Mediterranean almonds.

Sin Azúcar Añadido: Perfect for those watching their sugar intake, this Turron variant has no added sugar, allowing you to savor the natural sweetness of the ingredients.

Calidad Suprema: As the name suggests, this is not just any Turron. It belongs to the 'Calidad Suprema' category, ensuring the highest quality in ingredients and production.

Perfect for Gifting: Housed in a beautifully designed package, this Turron makes for an elegant gift during holidays, birthdays, or any special occasion.
Storage: Store in a cool, dry place. Keep away from direct sunlight.
---
Experience a burst of Spanish culture and tradition in every bite with Sanchis Mira Turron Imperial. Whether you're reminiscing about a trip to Spain or introducing your palate to new tastes, this treat is bound to impress!
View full details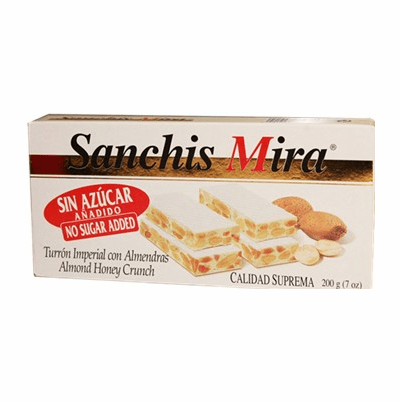 Sanchis Mira Turron Imperial con Almendras Calidad Suprema Sin Azucar Anadido 200g (7oz)