Sku:

SP041331062619

Vendor: Sanchis Mira
Sanchis Mira Suave Turron Mousse de Chocolate al Cointreau (Chocolate Cointreau Mousse) Box 7 oz
Enjoy the harmonious symphony of flavors that is Sanchis Mira Suave Turron Mousse de Chocolate al Cointreau. Crafted by the artisans of Sanchis Mira, a brand renowned for its legacy of creating exquisite Spanish treats, this luxurious mousse marries the rich depth of chocolate with the delightful citrus hints of Cointreau.
Features:
Premium Quality: Experience the finesse of a gourmet dessert made with high-quality ingredients, ensuring a taste that is both rich and velvety.

Unique Flavor Fusion: The smooth chocolate mousse is delicately laced with Cointreau, a world-famous orange-flavored liqueur, giving it a refined and sophisticated taste profile.

Authentic Spanish Craftsmanship: Rooted in Spain's time-honored traditions, Sanchis Mira has perfected the art of turron-making. This mousse is a testament to their passion and expertise.

Elegant Packaging: Housed in a beautifully designed 7 oz box, it's a perfect gift for loved ones or a decadent treat for yourself.

Versatile Indulgence: Enjoy it on its own, pair it with a glass of wine or incorporate it into your favorite dessert recipes for an added touch of luxury.
Taste Experience: On the first bite, the creamy texture of the mousse caresses your palate, followed by the rich undertones of premium chocolate. Just when you think you've savored all its secrets, the zesty hints of Cointreau make a delightful appearance, leaving a lingering taste that beckons for more.
Dive into a world of decadence with Sanchis Mira Suave Turron Mousse de Chocolate al Cointreau. It's not just a dessert; it's an experience.
View full details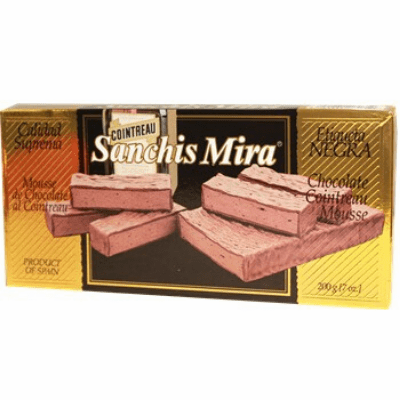 Sanchis Mira Suave Turron Mousse de Chocolate al Cointreau (Chocolate Cointreau Mousse) Box 7 oz