Sku:

SP041331062688

Vendor: Sanchis Mira
Sanchis Mira Barquillos Rellenos de Chocolate (Wafer Sticks Filled with Chocolate) Approximately 32 units 200g
Indulge in the rich flavors and delicate textures of Sanchis Mira's Barquillos Rellenos de Chocolate. A luxurious treat that effortlessly combines the light crispness of wafer with the sumptuous melt-in-the-mouth sensation of chocolate. Sourced from the finest ingredients, each wafer stick is a testament to the mastery of traditional Spanish confectionery.
Key Features:
Authentic Spanish Delight: Hailing from the renowned confectioners at Sanchis Mira, these wafer sticks capture the very essence of traditional Spanish treats.
Premium Chocolate Filling: Each wafer is generously filled with velvety, rich chocolate that tantalizes the taste buds with every bite.
Perfect for Sharing: With approximately 32 units in each 200g package, it's ideal for sharing with friends, family, or savoring on one's own during a quiet moment.
Elegant Packaging: The box is not only protective but also presents an elegant design, making it a perfect gift option for special occasions or simply as a token of love.
Versatile Enjoyment: Ideal as a standalone snack, paired with coffee or tea, or used as a garnish for desserts like ice cream and cakes.
Dive into the world of gourmet confectionery with Sanchis Mira Barquillos Rellenos de Chocolate and experience a Spanish treat like never before!
View full details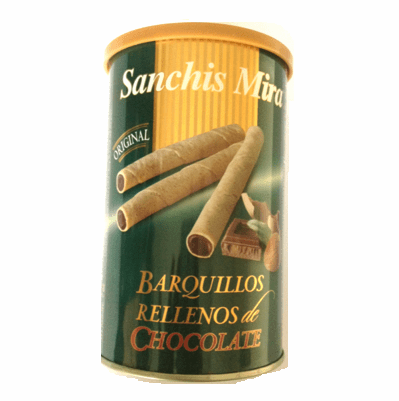 Sanchis Mira Barquillos Rellenos de Chocolate (Wafer Sticks Filled with Chocolate) Approximately 32 units 200g