Sku:

S8413725

Vendor: Amigo Foods Store
San Andrés Leticias Naranja al Chocolate Nt Wt 150g
Spanish San Andrés Leticias Naranja al Chocolate, a tantalizing blend of flavors that will transport your taste buds to a world of culinary delight. This delectable treat combines the zesty brightness of Spanish oranges with the rich, velvety indulgence of chocolate in a perfectly harmonious union.
Each 150g package is a symphony of taste and texture, carefully crafted to satisfy your cravings for both citrusy freshness and the comforting allure of cocoa. San Andrés Naranja al Chocolate is more than just a snack; it's an experience that evokes the sun-kissed orchards of Spain and the artistry of chocolatiers who have perfected their craft over generations.
From the moment you open the packaging, you'll be greeted by the tantalizing aroma of ripe oranges and premium chocolate. The luscious orange pieces are handpicked for their natural sweetness, adding a burst of citrusy goodness to every bite. The chocolate coating is made with the finest ingredients, ensuring a smooth, creamy, and indulgent taste that complements the orange zest perfectly.
Whether you savor these treats on your own, share them with friends and family, or include them in your next special occasion, San Andrés Leticias Naranja al Chocolate is a delightful choice. It's not just a snack; it's a gourmet experience that brings the essence of Spanish cuisine to your fingertips.
Indulge in the allure of Spain with every bite of these Naranja al Chocolate. Order yours today and elevate your snacking game to a whole new level of sophistication. ¡Buen provecho! (Enjoy your meal!)
View full details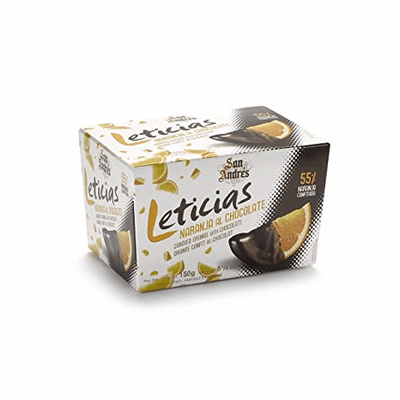 San Andrés Leticias Naranja al Chocolate Nt Wt 150g