Sku:
Vendor: Amigo Foods Store
San Roque Natilla de Leche 6.3oz
Indulge in the exquisite flavors of Peru with Peruvian San Roque Natilla de Leche 6.3oz, a creamy delight that encapsulates the essence of Peruvian culinary artistry.
Handcrafted with care and steeped in tradition, this 6.3oz container of Natilla de Leche is a sweet sensation that brings the magic of Peru right to your table.

Key Features:
Made in Peru: Immerse yourself in the authentic tastes of Peru with our Natilla de Leche, a culinary masterpiece that captures the essence of Peruvian gastronomy in every spoonful.

Creamy Perfection: Experience the velvety smoothness of San Roque Natilla de Leche, meticulously prepared using the finest ingredients to ensure a luxuriously creamy texture that melts in your mouth.

Rich and Luscious: With a perfect blend of sweetness and the richness of fresh milk, this Natilla de Leche is a decadent dessert that will transport your taste buds to the heart of Peru.

Versatile Delight: Enjoy it straight from the container, or unleash your culinary creativity by incorporating it into a wide range of desserts, including pies, tarts, and layered parfaits.

Time-Honored Recipe: San Roque Natilla de Leche is prepared according to a cherished Peruvian recipe, passed down through generations. Each spoonful is a tribute to the culinary heritage of Peru.

Convenient Size: This 6.3oz container is perfectly portioned for individual servings or for sharing with loved ones. It's also an ideal choice for bringing the taste of Peru to any occasion, whether at home or on the go.

Great Gift Idea: Share the joy of Peruvian cuisine with friends and family by gifting them the delightful San Roque Natilla de Leche. It's a unique and delicious present that showcases the flavors of Peru.
Whether you're a culinary explorer or simply seeking a sweet escape, Peruvian San Roque Natilla de Leche is the perfect dessert to elevate your dining experience. Order yours today and savor the magic of Peru with every spoonful. Don't miss out on this exquisite taste of Peruvian culture - it's a culinary journey you'll cherish!
View full details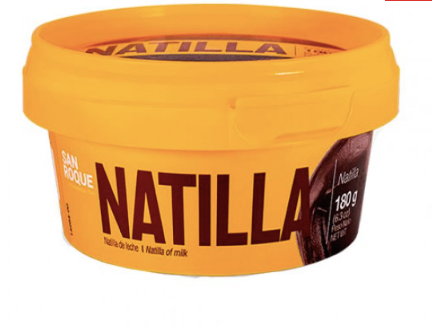 San Roque Natilla de Leche 6.3oz