Sku:
Vendor: Amigo Foods Store
San Roque Manjarblanco Light Milk Caramel 8.8oz
Peruvian San Roque Manjarblanco Light Milk Caramel, a delectable treat that will transport your taste buds straight to the heart of Peru. Crafted with care and tradition, this 8.8oz container of creamy goodness is a true culinary masterpiece that combines the rich heritage of Peruvian cuisine with a modern twist, making it a must-have addition to your pantry.
San Roque Manjarblanco, also known as "dulce de leche," is a beloved sweet indulgence that has been savored by generations of Peruvians. Made from the finest quality milk and meticulously cooked to perfection, this Manjarblanco captures the essence of Peru's culinary expertise. What sets this product apart is its "Light" formulation, which ensures that you can savor the delightful taste of caramel without compromising on your dietary preferences.
Key Features:
Pure Peruvian Flavors: San Roque Manjarblanco Light is made using authentic Peruvian ingredients, bringing you the genuine taste of Peru's culinary heritage.

Creamy and Luscious: With its smooth and velvety texture, this milk caramel will melt in your mouth, leaving behind a blissful sensation that lingers.

Versatile Delight: Enjoy it as a spread on toast, drizzled over pancakes, as a topping for ice cream, or even as a delightful filling for pastries and desserts. The possibilities are endless!

Light Indulgence: San Roque understands the importance of a balanced diet, which is why this Light Milk Caramel is lower in calories and fat compared to traditional versions, allowing you to indulge guilt-free. This Manjarblanco light contains 30% fewer calories than the classic manjarblanco from San Roque. In addition, it is 0% added sugar and without food coloring or flavorings.

Perfect Gift: Share the flavors of Peru with your loved ones by gifting them this container of exquisite Manjarblanco. It's a thoughtful present for food enthusiasts and those who appreciate fine culinary traditions.

Convenient Packaging: The 8.8oz can is perfectly sized for easy storage and can be taken with you on picnics, road trips, or simply enjoyed at home.
Indulge in the sweet symphony of flavors and tradition with this Peruvian San Roque Manjarblanco Light Milk Caramel. Whether you're exploring the world of Peruvian cuisine or seeking a delightful treat to elevate your desserts, this is your ticket to a culinary adventure like no other. Embrace the taste of Peru, and order yours today!
View full details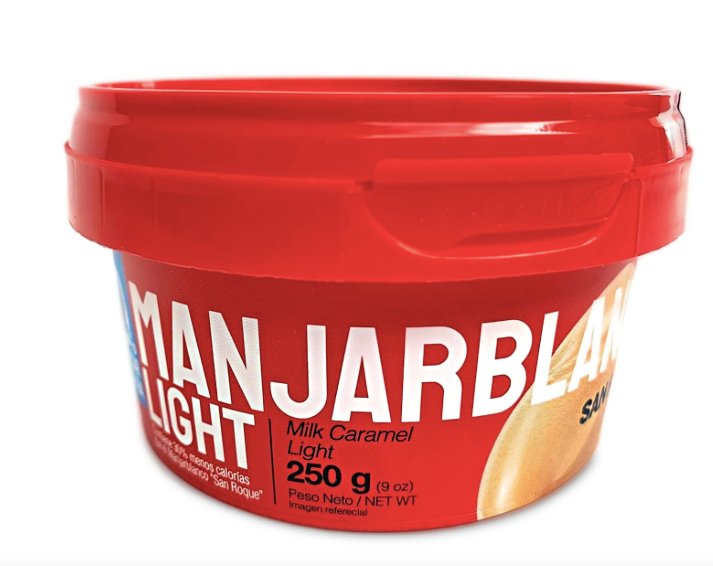 San Roque Manjarblanco Light Milk Caramel 8.8oz