Sku:

SP0505091

Vendor: Sanchis Mira
Sanchis Mira Turron Alicante, Etiqueta Negra, Calidad Suprema 200 grs. (7oz.)
Indulge in the taste of tradition with the Sanchis Mira Turron Alicante, Etiqueta Negra, Calidad Suprema. Originating from Spain's rich culinary heritage, this almond nougat delicacy showcases a delectable blend of the finest ingredients, masterfully crafted to create an unforgettable flavor profile.
Key Features:
Authentic Recipe: Made using traditional methods passed down through generations, ensuring an authentic Spanish Turron experience.
Calidad Suprema: As the name suggests, this is of supreme quality, offering a richer taste and more refined texture compared to regular varieties.
Etiqueta Negra (Black Label): An assurance of premium quality, the black label is reserved for Sanchis Mira's top-tier products.
Rich in Almonds: Packed with crunchy almonds that are beautifully embedded in the hard nougat, delivering a delightful crunch in every bite.
Perfectly Portioned: Weighing 200 grs. (7oz.), it's an ideal treat to share with family and friends, or to indulge in by yourself.
Taste Profile:
A harmonious blend of lightly roasted almonds, pure honey, sugar, and egg whites, this turron promises a delightful crunch, complemented by the sweet undertones of its ingredients. The result? A confectionary masterpiece that's both rich in flavor and history.
Serving Suggestions:
Enjoy Sanchis Mira Turron Alicante as a standalone treat, paired with a fine Spanish wine, or crumbled over desserts like ice cream and pastries. Its versatility makes it a delightful addition to any culinary occasion.
Storage Instructions:
Keep in a cool, dry place. Best consumed within the freshness date for optimal taste.
---
Elevate your sweet moments with Sanchis Mira Turron Alicante, Etiqueta Negra, Calidad Suprema – a true taste of Spanish luxury.
View full details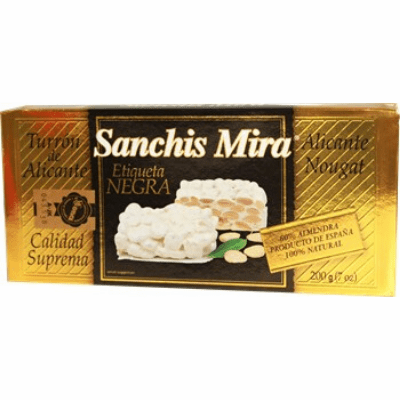 Sanchis Mira Turron Alicante, Etiqueta Negra, Calidad Suprema 200 grs. (7oz.)