Sku:

rt045635729308

Vendor: Alpes
Soursop Pulp ( Pulpa de Guanabana) Alpes Real Tropical Fruit refrigerate after open NET WT.1lb
Journey into the heart of Colombia with Alpes Real Tropical Soursop Pulp. Harvested at peak ripeness from the lush rainforests of Colombia, their soursop pulp captures the pure, authentic flavor of the tropics. Also known as Guanábana, this unique fruit is renowned for its tantalizing blend of sweet and tangy, offering a taste sensation like no other.
Features:
100% Natural: No additives, preservatives, or artificial colors. Just pure, unadulterated soursop pulp.

Versatile Culinary Uses: Perfect for smoothies, desserts, cocktails, sauces, and traditional Colombian dishes. Its rich texture and exquisite flavor elevate any recipe.

Healthful Delight: Soursop is not only delicious but is also packed with vitamins and minerals, known to offer numerous health benefits.

Sustainably Sourced: Their commitment to sustainability means they only harvest the fruit from environmentally-conscious farms in Colombia, ensuring a greener planet and a genuine taste.
Directions for Use:
For a refreshing tropical drink, blend with ice and a touch of sweetener. For culinary dishes, follow the desired recipe's recommendations.
Storage Instructions:
Ensure to refrigerate after opening to maintain freshness and flavor. Consume within 7 days of opening for the best taste experience.
Imported From:
Proudly sourced and imported directly from Colombia, bringing you the authentic taste of the South American tropics.
---
Dive into a tropical escapade with every spoonful! Experience the richness of Colombia's biodiversity in the comfort of your kitchen.
View full details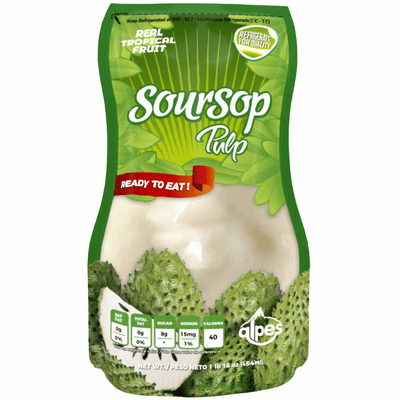 Soursop Pulp ( Pulpa de Guanabana) Alpes Real Tropical Fruit refrigerate after open NET WT.1lb