Sku:

P991733

Vendor: Amigo Foods Store
Puerto Rican Christmas Gift Basket
Taste the Flavors of Puerto Rico
Celebrate Puerto Rican Style
Make the holidays or any special event a truly memorable one by giving someone you love this Puerto Rican holiday gift basket with all the best Puerto Rico has to offer.
Includes one each of the following;
Goya Gandures verdes 15 oz.
Goya Ganures verdes Guisados ready to eat - 15 oz.
Goya Adobo con pimienta 16 oz.
Goya Boneless and skinless ooked Ham - 16 oz.
El Antiguo Turron de Alicante (Duro) - 7 oz..
El Antiguo Turron de Jijona (Blando) - 7 oz.
Coco Lopez - Crema de Coco - 15 oz.
Yaucono Cafe - 8 oz.
Goya Bacalaitos - 4.5 oz.
Goya Habichuelas con dulce - 15 oz.
Goya Sancocho Criollo 15 oz.
Badias Sazon con culantro y achiote - cajita con 18 sobres
Betis Aceite de Oliva Espanol 24 oz.
Goya Flan - box 3.25 oz.
Menier Chocolate - tableta 7 oz.
Iberia Pulpo en Aceite - 4 oz. easy open can
Rovira Galletas de Soda 8 oz.
*If an item is out of stock, we may substitute products of equal or greater quality from those listed above.
View full details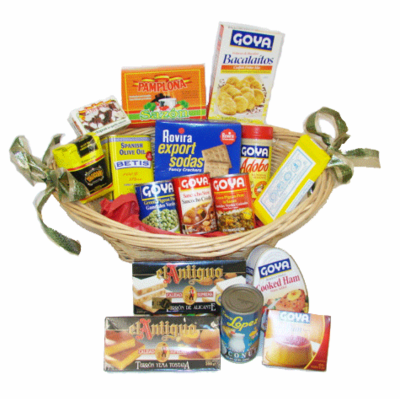 Puerto Rican Christmas Gift Basket