Sku:

BR8192

Vendor: Amigo Foods Store
Predilecta Figos Em Calda 400 grs.
Discover the sweet essence of Brazil with Predilecta's premium Figos Em Calda! The 400-gram can is packed with the richest, most succulent figs, delicately preserved in a luscious syrup to bring a touch of Brazilian luxury to your table.
Why Predilecta Figos Em Calda?
Authentic Brazilian Delight: Each fig is hand-selected from the finest orchards in Brazil, ensuring a genuine taste experience.
Versatile Sweet Treat: Enjoy these Brazilian figs as a standalone dessert, pair them with cheeses, or use them to enhance your pastries and puddings.
Ready to Serve: These figs come ready to eat, saving you time and making it easier to satisfy your sweet tooth instantly.
Taste the Tradition: Predilecta has been a household name in Brazil since its inception, offering a taste of tradition with every spoonful. Figos Em Calda is a testament to this legacy, offering a harmonious balance between the fig's natural flavors and the sweetness of the syrup—a recipe that has been perfected over the years.
Serving Suggestions:
Top off your morning yogurt or oatmeal
Create an exquisite topping for ice creams and cheesecakes
Serve alongside cold meats and cheeses for a unique appetizer
Use as a gourmet ingredient in your baking recipes
Don't miss out on the chance to elevate your culinary experiences with Brazilian Predilecta Figos Em Calda. Click to add this delectable 400g can to your pantry and bring a burst of Brazilian sweetness to your kitchen!
View full details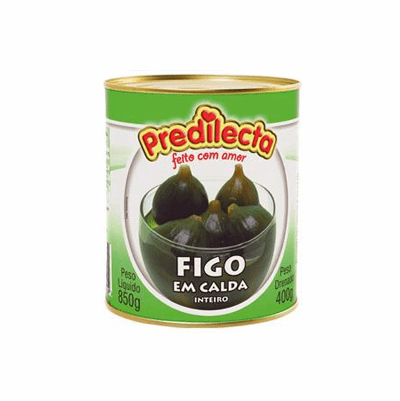 Predilecta Figos Em Calda 400 grs.