Sku:

30055

Vendor: Amigo Foods Store
Yoki / Amafil Polvilho Doce 17.5 oz (500 grs) Polvilho Doce
Polvilho Doce
Sweet Manioc Starch
Sweet Manioc Starch
To Make Pao De Queijo ( Brazilian Cheese Bread ) From Scratch
Pao De Queijo Recipe From Scratch
Pao De Queijo Ingredients Needed:
- 2 lbs. of Sweet (or Sour) Manioc Flour
- 1 lb. of Mashed Potatoes - No oil or salt
- 4 Eggs
- 2 Cups of milk
- 1/2 Cup Vegetable Oil
- 3 1/2 oz. Parmesan Cheese Grated
- 1 Teaspoon of Salt
Pao De Queijo Recipe (Makes 50 Rolls);
1) Preheat Oven to 350F
2) After the mashed potaoes have cooled, mix all your ingredients, except the milk, into a large mixing bowl.
3) While mixing the ingredients, slowly add the milk into the bowl until you get a soft dough.
4) Make small balls and place them in a tray leaving some space in between so that they don"t stick together when they expand.
5) Place the tray in a pre-heated oven (350ºF) for about 20-25 minutes or until they get a golden color.
6) They're ready to eat! Serve & Enjoy!
Don't Have The Time From Scratch?
TryYoki Pao De Queijo Ready Mix
View full details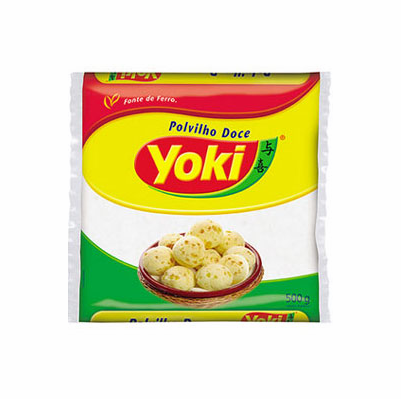 Yoki / Amafil Polvilho Doce 17.5 oz (500 grs) Polvilho Doce