Sku:

PU025

Vendor: Amigo Foods Store
Picarones Provenzal 5.8 oz
Indulge in the authentic taste of Peru with our Provenzal Picarones Mix. This 5.8 oz box comes complete with panela, offering you the essential ingredients to create 12 to 15 traditional Peruvian picarones right in your own kitchen.
Known as the quintessential Peruvian doughnut, picarones are a beloved dessert that combines the sweet, spiced flavors of the Andes with the comforting texture of a perfectly fried doughnut.
Provenzal mix saves you time without compromising on flavor. Each batch you make will bring the alluring aroma of warm spices and caramelized panela to your home, promising a culinary journey to the heart of Peru with every bite.
Perfect for family gatherings, cultural events, or simply as a treat to satisfy your sweet tooth. Follow the easy instructions, and you'll be serving up a delectable dessert that's sure to impress.
Whether you're a seasoned chef or a curious foodie, Provenzal Picarones Mix is designed to guide you effortlessly to perfect results.
Add this mix to your pantry and get ready to enjoy a taste of Peru whenever the craving strikes!
View full details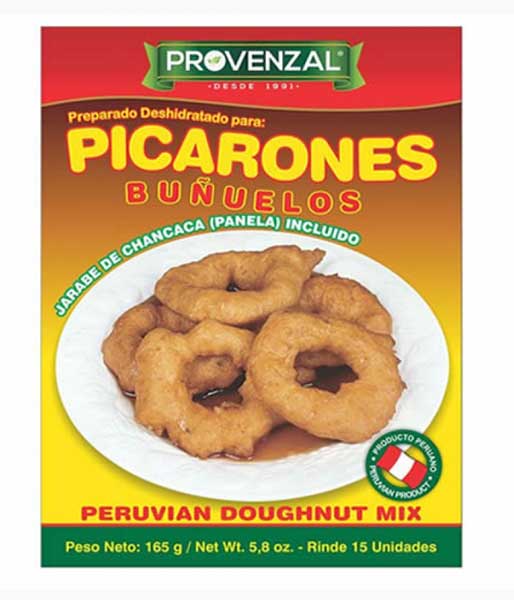 Picarones Provenzal 5.8 oz