Sku:

P856568

Vendor: Amigo Foods Store
Belmont or Peru Chef Pasta De Aji Panca (Panca Pepper Light Paste) Net. Wt 116 oz
Discover the robust flavors of Peru with authentic Aji Panca Paste, now available in a generous 7 lb (3.18 kg) tub, specifically designed for industrial and culinary professional use. Made from the finest Aji Panca chilies, this paste is a staple in Peruvian cuisine and a secret ingredient for chefs looking to infuse their dishes with a mild, smoky heat and a rich, berry-like flavor.
Aji Panca Paste is crafted from chilies that are carefully selected, roasted, and ground to create a smooth, versatile paste that is perfect for marinades, sauces, stews, and much more. This bulk tub is an economical and convenient choice for busy kitchens, caterers, food manufacturers, and restaurants.
Key Features:
Authentic Peruvian Aji Panca Chilies: Sourced directly from Peru, ensuring a genuine flavor profile.
Mild and Smoky: Delivers a distinctive, warm heat without overpowering your dishes.
Versatile Use: Ideal for a variety of applications, from marinating meats to enriching vegetarian dishes.
Ready to Use: The paste is pre-made to save time and labor in professional kitchens.
Large Quantity: The 7 lb tub is perfect for high-volume cooking and industrial food preparation.
Long Shelf Life: Designed for extended use, allowing you to maintain quality with less waste.
Applications:
Elevate your recipes with the tantalizing flavor of Aji Panca Paste. It's perfect for creating authentic Peruvian dishes like anticuchos, aji de gallina, or for giving a twist to traditional recipes such as BBQ sauces, chili, and even pasta sauces. This paste seamlessly blends with various ingredients, making it an indispensable addition to your culinary arsenal.
Incorporate the Bulk 7 lb Tub of Aji Panca Paste into your kitchen to unleash the true potential of Peruvian flavors in your cooking. Order now and transform your menu with the exotic, smoky essence of Peru's beloved Aji Panca chilies!
View full details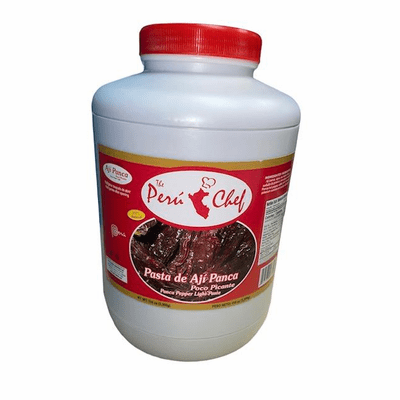 Belmont or Peru Chef Pasta De Aji Panca (Panca Pepper Light Paste) Net. Wt 116 oz