Sku:

030045A

Vendor: Amigo Foods Store
Yoki Pao de Queijo Mistura ( Brazilian Cheese Bread MIx ) 250 grs.
Embark on a flavorful journey to the heart of Brazil with Yoki's Authentic Pão de Queijo Mix.
This 250g package offers you the traditional taste of Brazil's beloved cheese bread, known for its crisp exterior and fluffy, cheesy interior.
Perfect for snack lovers and culinary adventurers alike, Yoki Pão de Queijo Mix delivers a homemade experience with convenience and quality.
Key Features:
Authentic Brazilian Recipe: Yoki's Pão de Queijo Mix is crafted with a time-honored recipe that brings the taste of Brazil right to your kitchen. Indulge in the same savory cheese bread enjoyed in Brazilian homes and street fairs.

High-Quality Ingredients: Made with premium cassava flour and a rich blend of cheeses, this mix ensures each batch is full of flavor and has the perfect texture. 

Easy to Prepare: With Yoki's easy-to-follow instructions, you'll whip up a delicious batch of cheese bread with minimal effort. Just add water, eggs, and oil, and your Pão de Queijo will be ready to enjoy in minutes.

Versatile Snack: Serve these Brazilian bite-sized delights as appetizers, party snacks, or alongside your favorite meals. They're also perfect for creating sandwich sliders or as a tasty complement to your breakfast spread.
Add this Yoki Pão de Queijo Mix to your pantry staples and be prepared to impress your family and guests with an exotic and delightful treat. Order now and get ready to enjoy the warm, cheesy, and irresistible goodness of Brazil's favorite snack!
View full details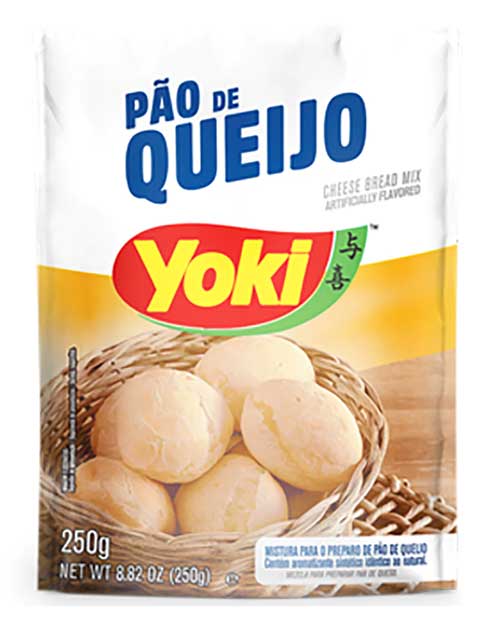 Yoki Pao de Queijo Mistura ( Brazilian Cheese Bread MIx ) 250 grs.