Sku:

343127

Vendor: Amigo Foods Store
IBERIA Mejillon Escabeche 4 oz.
Unlock the authentic taste of Spain with Iberia Mejillon Escabeche 4 oz. – a culinary masterpiece that promises to transport you to the heart of Spanish cuisine. Crafted with the utmost care and using traditional Spanish methods, this premium product offers an unforgettable gastronomic experience that will leave you craving for more.
Product Highlights:
Pure Spanish Tradition: Iberia Mejillon Escabeche is a true embodiment of Spanish culinary heritage. This delectable delicacy is prepared following time-tested recipes, ensuring that every bite bursts with the rich and vibrant flavors of Spain.

Top-Quality Ingredients: These mussels are sourced from the pristine waters and handpicked for their exceptional taste and texture. These succulent mussels are bathed in a mouthwatering escabeche sauce made from a harmonious blend of aromatic herbs, spices, and vinegar.

Convenient 4 oz. Size: Each can of Iberia Mejillon Escabeche contains a generous 4 ounces of premium mussels. This convenient size is perfect for a quick and satisfying snack or for adding a touch of Spain to your favorite recipes.

Nutrient-Rich Goodness: Mussels are known for their nutritional value, packed with protein, omega-3 fatty acids, and essential vitamins and minerals. With Iberia Mejillon Escabeche, you can enjoy a wholesome and nutritious seafood option that's as delicious as it is good for you.

Versatile Culinary Companion: Iberia Mejillon Escabeche is incredibly versatile. Enjoy it straight from the can as a flavorful appetizer, toss it into salads, incorporate it into pasta dishes, or use it to elevate your seafood creations. The possibilities are endless.
Elevate your culinary experience with Iberia Mejillon Escabeche 4 oz. and savor the true taste of Spain. Whether you're a seasoned foodie or simply looking to add a touch of Spanish flair to your meals, Iberia premium mussels in escabeche sauce are a must-try. Order your can today and embark on a flavorful journey through the vibrant cuisine of Spain!
View full details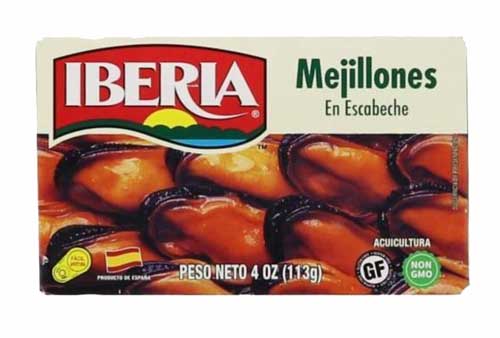 IBERIA Mejillon Escabeche 4 oz.