Sku:
Vendor: Amigo Foods Store
Mountain delight Almojabana Cheese Bun Mix 12oz, Makes 21 Portions
Mountain Delight Almojabana Cheese Bun Mix – Your Path to Irresistible Homemade Delights!
Unleash your inner chef and elevate your culinary experience with Mountain Delight Almojabana Cheese Bun Mix. Crafted with the finest ingredients, this 12oz package is your ticket to creating 21 portions of delectable, cheese-infused Almojabana buns that will leave your taste buds singing!
Key Features:
🧀 Rich, Authentic Flavor: Mountain Delight Almojabana Cheese Bun Mix is inspired by traditional recipes, ensuring that each bite delivers the true essence of this beloved Colombian treat. The combination of savory cheese and fluffy dough is pure indulgence.
👩‍🍳 Easy Preparation: Whether you're an experienced baker or a kitchen novice, this mix guarantees hassle-free, foolproof results. Simply follow the easy-to-understand instructions on the packaging, and you'll have mouthwatering buns in no time.
🥖 Versatile: Mountain Delight Almojabana Cheese Bun Mix isn't just for Almojabanas! Get creative and use it as a base for various cheese-infused bread creations, savory twists, or even sweet adaptations. The possibilities are endless!
🏔️ Quality Ingredients: Mountain delight takes pride in sourcing the highest-quality ingredients to ensure your buns turn out just right every time. This mix is free from artificial preservatives and additives, so you can savor every bite with confidence.
💡 Healthier Choice: This mix allows you to control the ingredients, making it easier to adapt to dietary preferences. You can use low-fat cheese or alternative ingredients without sacrificing taste.
👪 Perfect for Sharing: With 21 portions in every package, Mountain Delight Almojabana Cheese Bun Mix is ideal for gatherings, family dinners, or cozy nights in. Share the joy of homemade goodness with your loved ones.
Don't miss out on the chance to savor the authentic flavors of Almojabana buns in the comfort of your home. Whether you're a seasoned cook or just getting started, this 12oz package of Mountain Delight Almojabana Cheese Bun Mix is your gateway to homemade, cheesy perfection. Order yours today and embark on a culinary journey that will delight your taste buds and leave you craving more!
View full details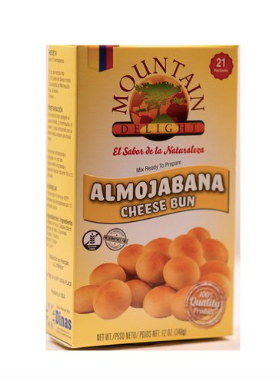 Mountain delight Almojabana Cheese Bun Mix 12oz, Makes 21 Portions