Sku:

Sp8425991

Vendor: Amigo Foods Store
Mercader Horchata de Chufa Net.Wt 33.8 oz
Experience the authentic taste of Spain with Mercader Horchata de Chufa, a delightful and traditional beverage that brings the essence of Valencia right to your home.
This exquisite 33.8 oz (1 liter) pack is a testament to quality and convenience, perfect for those who appreciate the finer things in life.
Authentic Spanish Flavor: Mercader Horchata de Chufa is crafted from the finest tiger nuts, a staple in Valencian culture. This non-dairy, sweet, and refreshing drink has a unique taste that is both satisfying and invigorating, making it a perfect choice for any occasion.
Convenience at its Best: With no refrigeration required for storage, this horchata is a hassle-free addition to your pantry. Keep it on the shelf and simply chill in the fridge or freezer before serving. For a twist, try it partially frozen for an icy, refreshing experience.
Easy to Prepare: Just shake well and it's ready to serve! This horchata offers a quick and easy way to enjoy a classic Spanish drink without any preparation fuss.
Versatile Drink: Whether you're hosting a party, needing a refreshing summer drink, or looking for a unique ingredient for your culinary creations, Mercader Horchata de Chufa is your go-to choice. It's perfect for any time of day and pairs wonderfully with a variety of foods.
Health Benefits: Packed with nutrients, this horchata is a healthier alternative to sugary drinks. It's naturally sweet, rich in vitamins and minerals, and a great source of energy.
Imported Quality: Directly imported from Spain, this horchata guarantees an authentic experience. You're not just buying a drink; you're indulging in a piece of Spanish culture.
Elevate your beverage selection with Mercader Horchata de Chufa. It's more than just a drink; it's a journey through Spanish tradition, right in the comfort of your home.
Order now and savor the taste of Valencia!
View full details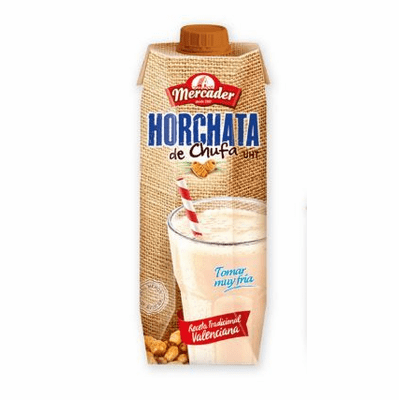 Mercader Horchata de Chufa Net.Wt 33.8 oz