Sku:

SP4510

Vendor: Mas Aliu
Mas Aliu Bread Sticks Picos Camperos Net.Wt 180 g
Mas Aliu delectable Spanish Bread Sticks - Picos Camperos! These crispy, savory treats are a culinary delight that will transport your taste buds straight to Spain. With a net weight of 180 grams, this package is the perfect size to satisfy your snacking cravings.
Crafted with care and using traditional Spanish recipes, our Mas Aliu Bread Sticks are a true gastronomic experience. Each bite is a harmonious blend of flavors and textures, combining the crunchiness of the sticks with a rich and satisfying taste that will leave you craving for more.
Whether you're enjoying these Picos Camperos as an accompaniment to your favorite cheese and wine, dipping them into your preferred sauces, or savoring them on their own, their versatility is sure to impress. They make for a perfect addition to any charcuterie board or a delightful snack for any occasion.
But it's not just their incredible taste that makes Mas Aliu Bread Sticks stand out; they are also made with high-quality ingredients, ensuring that every bite is a guilt-free pleasure. Plus, they are a great source of dietary fiber, making them a healthier choice for your snacking needs.
Elevate your snacking experience with the exquisite flavors of Spain by indulging in Mas Aliu Bread Sticks - Picos Camperos. Whether you're hosting a gathering, treating yourself, or searching for a thoughtful gift, these bread sticks are the ideal choice. Order your 180g pack today and embark on a culinary journey through Spain, one crispy bite at a time. ¡Buen provecho! (Enjoy your meal!)
View full details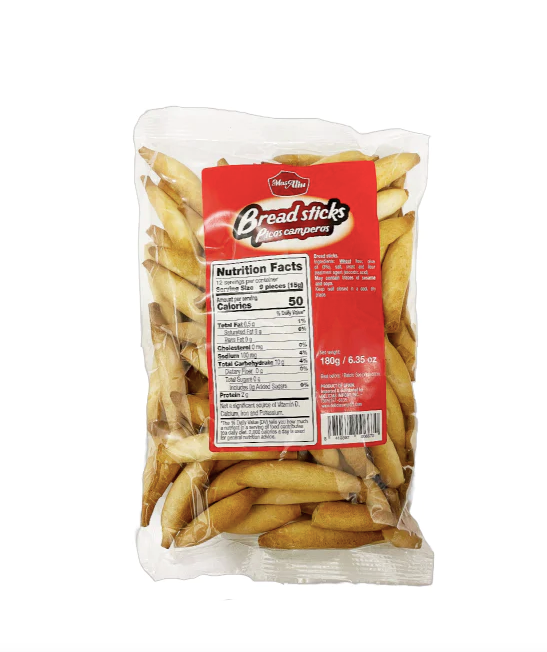 Mas Aliu Bread Sticks Picos Camperos Net.Wt 180 g