Sku:

360290

Vendor: Amigo Foods Store
Mountain Delight Mazamorra - Yellow Hominy Corn 400g
Colombian Mountain Delight Mazamorra - Yellow Hominy Corn 400g – a taste of tradition and excellence in every bite!
Experience the vibrant flavors of Colombia with this premium Yellow Hominy Corn. Sourced from the fertile Colombian mountains, this Mazamorra Antioqueña is a culinary treasure that captures the essence of Colombian cuisine. Whether you're a seasoned chef or just someone who appreciates delicious, wholesome food, this product is sure to delight your taste buds.
Key Features:
Authentic Colombian Flavor: Mountain Delight Yellow Hominy Corn is carefully selected and processed to maintain the authentic taste and texture that Colombian cuisine is known for. It's the perfect base for creating classic dishes like Ajiaco and Sancocho.

Nutrient-Rich: Packed with essential nutrients, Mountain Delight Yellow Hominy Corn is a great source of dietary fiber, vitamins, and minerals. It's not only delicious but also a healthy addition to your meals.

Versatile Ingredient: Whether you're making soups, stews, or side dishes, this Yellow Hominy Corn adds a rich, hearty flavor to your recipes. It's a versatile ingredient that can elevate your cooking to new heights.

Convenient Packaging: This 400g pack is just the right size for your kitchen, ensuring you always have the freshest ingredients on hand. 

Culinary Adventure: Embark on a culinary adventure with Mountain Delight Yellow Hominy Corn and explore the diverse flavors of Colombian cuisine. Impress your family and friends with mouthwatering dishes that are both delicious and culturally enriching.
Add a touch of Colombian authenticity to your meals with Colombian Mountain Delight Mazamorra - Yellow Hominy Corn. Elevate your cooking, embrace tradition, and savor the delightful flavors of Colombia. Order your pack today and experience the magic of Colombian cuisine in your own kitchen!
View full details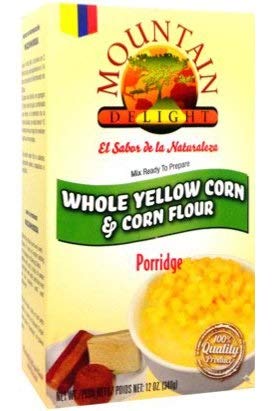 Mountain Delight Mazamorra - Yellow Hominy Corn 400g