Sku:

PU881020

Vendor: Amigo Foods Store
La Iberica Pecan Chocoteja 7.4 oz (210g)
La Iberica's Pecan Chocoteja is a sumptuous treat that beautifully marries the rich traditions of Peruvian chocolate-making with the nutty goodness of pecans. Each piece is individually wrapped and a delightful journey into the heart of the Andes.
Features:
Authentic Peruvian Chocolate: Crafted from premium cacao beans harvested from the lush regions of Peru, experience a chocolate that's smooth, rich, and brimming with depth.

Premium Pecans: Each chocoteja boasts crunchy, fresh pecans, sourced for their rich and buttery flavor that complements the chocolate's depth.

Traditional Craftsmanship: La Iberica, a renowned Peruvian chocolatier, uses time-honored techniques that have been passed down through generations, ensuring every bite is a testament to their dedication and love for chocolate.

Perfect for Gifting: The elegant packaging reflects the premium quality of the chocotejas inside, making it an ideal gift for any occasion—birthdays, anniversaries, or just a simple 'thinking of you' moment.

Natural Ingredients: Free from artificial additives or preservatives, this treat is as pure as the Andean mountains it hails from.
Taste Profile: Savor the velvety melt-in-your-mouth chocolate that gradually gives way to the crisp, nutty burst of pecans. Each bite is a harmonious blend of textures and flavors - a true testament to Peru's rich culinary heritage.
Serving Suggestions: Enjoy these chocotejas with a cup of hot coffee or a glass of Peruvian red wine. They can also be paired with fruits or cheeses for a gourmet dessert experience.
Storage: Keep in a cool, dry place away from direct sunlight. Refrigeration is not recommended as it may alter the texture and flavor of the chocolate.
Embrace the authentic taste of Peru with La Iberica's Pecan Chocoteja—a luxurious indulgence that promises to delight the senses with every bite.
View full details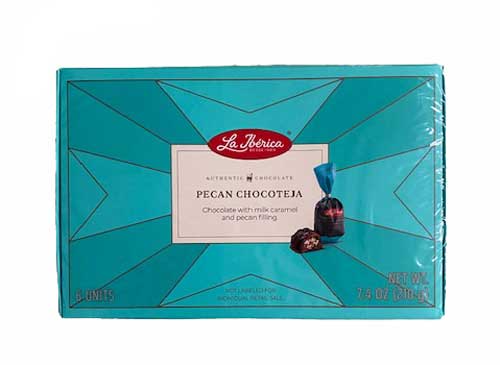 La Iberica Pecan Chocoteja 7.4 oz (210g)