Sku:
Vendor: Amigo Foods Store
La Iberica Authentic Chocolate Mixture 7.8 oz (220 grs)
Assortment of chocolate bonbons with fillings: dark chocolate, cream, vanilla-flavored cream, mint-flavored and vanilla flavored toffee, soft candies with: chocolate, coconut, orange and vanilla flavor, milk chocolate pastilles and semi sweet chocolate pastilles.

Features:
Authentically Peruvian: Sourced directly from Peru, this chocolate mixture embraces the deep-rooted traditions and unique cocoa beans of the region.

Rich & Velvety Texture: Melt into a world of luxury with every bite. The smooth and creamy consistency promises a delightful mouthfeel.

Pure Ingredients: Crafted using only the finest cocoa beans, this chocolate assures a premium quality, free from any artificial preservatives or additives.

Versatile Use: Whether you're baking, creating gourmet desserts, or simply enjoying it as a standalone treat, La Iberica's chocolate mixture adapts beautifully.

Elegant Packaging: Housed in a sophisticated package, it makes for a perfect gift for those who appreciate the finer things in life.

Sustainable & Ethical: Committed to responsible sourcing, La Iberica ensures that every cocoa bean is ethically procured, supporting local farmers and ensuring environmental sustainability.
Tasting Notes:
A harmonious blend of dark and milk chocolate, this mixture offers subtle fruity undertones, a hint of nuttiness, and a lingering, rich cocoa finish. A treat that transports you to the cocoa plantations of Peru with every bite.
Serving Suggestion:
Enjoy it in its pure form or melt it down for a rich hot chocolate drink. Pairs well with red wine, berries, and nuts.
About La Iberica:
With a legacy spanning over a century, La Iberica is synonymous with Peruvian chocolate excellence. Rooted in tradition yet infused with contemporary flair, their chocolates reflect the soul of Peru and the passion of its people.
View full details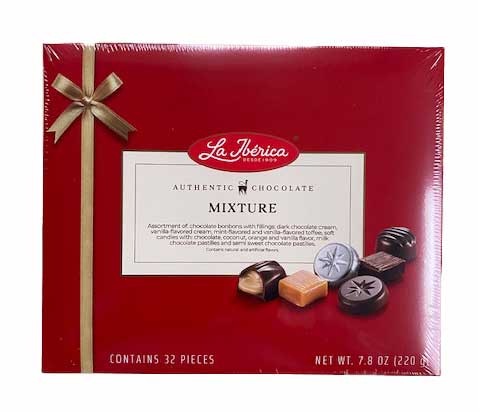 La Iberica Authentic Chocolate Mixture 7.8 oz (220 grs)