Sku:

SP43200

Vendor: La Abuelita
La Abuelita Chorizo Un sabor de su Casa 11 pcs (Ready to Eat) NET.Wt 40oz
La Abuelita Chorizo: A Taste of Home, 11 Pieces (Ready to Eat), NET Weight 40oz
Experience the authentic flavors of Spain with La Abuelita Chorizo, a culinary delight that brings the warmth and tradition of a Spanish home right to your table. This 11-piece ready-to-eat chorizo set, with a generous weight of 40 oz, promises to elevate your dining experience with its rich, savory goodness.
Key Features:
True Spanish Heritage: La Abuelita Chorizo is crafted with time-honored recipes passed down through generations. Each bite captures the essence of Spanish culinary traditions.

Quality Ingredients: La Abuelita sources only the finest ingredients to create this chorizo. Premium cuts of pork are carefully seasoned with a blend of aromatic spices to achieve that perfect balance of flavor and texture.

Convenient and Ready to Eat: Enjoy the convenience of this ready-to-eat chorizo. Perfect for a quick snack, tapas, or as an ingredient in your favorite Spanish dishes.

Versatile: La Abuelita Chorizo can be used in a variety of culinary creations. Whether you're adding it to paella, pasta, omelets, or simply enjoying it on its own, its robust flavor will enhance any dish.

Generous Quantity: With 11 pieces in each package, you'll have plenty to share with family and friends, or you can savor it over multiple meals.

Traditional Taste: La Abuelita Chorizo embodies the authentic, robust flavors that Spanish cuisine is renowned for. It's like having a taste of Spain right in your own home.
Indulge in the rich, smoky, and spicy notes that make La Abuelita Chorizo a cherished favorite among those who appreciate the finer tastes of life. Elevate your culinary adventures with this exceptional Spanish delicacy.
Whether you're a seasoned connoisseur of Spanish cuisine or just beginning your journey into the world of flavor, La Abuelita Chorizo is a must-try. Order now and bring the taste of Spain to your doorstep. ¡Buen provecho! (Enjoy your meal!)
View full details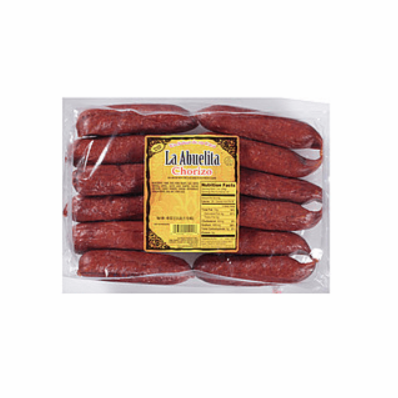 La Abuelita Chorizo Un sabor de su Casa 11 pcs (Ready to Eat) NET.Wt 40oz