Sku:

PU0711

Vendor: Peru Chef
Jarabe de Goma Peru Chef 480 g (17 oz.)
Elevate your cocktail game with the authentic Peruvian Jarabe de Goma from Peru Chef, imported directly from Peru.
This premium 480g (17 oz.) syrup is a must-have for crafting the iconic Pisco Sour, Peru's national cocktail beloved worldwide.
Made from high-quality ingredients, Jarabe de Goma (Rubber Syrup) is renowned for its perfect balance of sweetness, enhancing the unique flavors of Pisco while adding a smooth, velvety texture to your drinks.
Its versatile nature makes it a staple in any mixologist's collection, ideal for experimenting with various cocktail recipes beyond the classic Pisco Sour.
Experience the heart of Peruvian mixology with Jarabe de Goma by Peru Chef. Each bottle promises consistency, quality, and the authentic taste of Peru. It's not just a syrup; it's a journey to the vibrant streets of Lima with every sip.
Perfect for professional bartenders and home cocktail enthusiasts alike, this Jarabe de Goma is a testament to Peru Chef's commitment to bringing traditional Peruvian flavors to the world.
Order now and bring a piece of Peru's rich cocktail heritage to your home bar. Whether you're hosting a party or enjoying a quiet evening, Jarabe de Goma Peru Chef is your ticket to creating unforgettable Pisco Sours and other tantalizing cocktails.
Don't just make drinks, make memories with the authentic taste of Peru!
View full details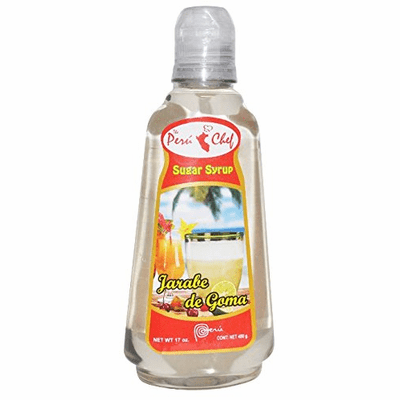 Jarabe de Goma Peru Chef 480 g (17 oz.)