Sku:

jamon-serrano-spain

Vendor: Noel
Jamon Serrano Noel Gift Set ( Includes Spanish Serrano Ham, Jamonera & Traditional Jamon Knife )
Noel Jamon Serrano Gift Set - An Authentic Spanish Culinary Experience 
Indulge in the essence of Spanish gastronomy with the exclusive Spanish Jamon Serrano Noel Gift Set. This set is more than just a gift; it's a journey into the heart of Spain's culinary traditions, perfect for gourmands and food lovers alike.
What's Included?
Serrano Ham (Jamon Serrano) Approximately 15 lbs: Experience the rich, nuanced flavors of authentic Jamon Serrano, a staple in Spanish cuisine. Noel Serrano ham is carefully cured up to 12 months, following age-old techniques to ensure a perfect balance of savory and sweet, with a melt-in-your-mouth texture.
Jamonera (Ham Holder): To savor Jamon Serrano as the Spanish do, proper slicing is key. The elegantly crafted Jamonera is not only functional but adds a touch of sophistication to your kitchen or dining area.
Traditional Jamon Knife: Precision is crucial in carving thin, delectable slices of ham. The traditional Jamon knife is designed specifically for this purpose, ensures you get the perfect jamon slice every time.
Why Choose Noel Gift Set?
Authenticity: Imported directly from Spain, Noel Jamon Serrano represents the pinnacle of Spanish charcuterie. Made from the best white pigs, this ham can boast that it's been awarded the coveted seal of the Spanish Ham Consortium.
Quality: Each component of this gift set has been selected for its quality and craftsmanship.
Versatility: Perfect for a variety of occasions - from holiday gatherings to intimate dinner parties.
Unforgettable Experience: Gifting this set is not just about offering a meal but an immersive cultural experience.
Perfect For:
Culinary Enthusiasts
Cultural Experience Seekers
Special Occasion Gifts
Corporate Gifting
Elevate your gift-giving with the Spanish Jamon Serrano Noel Gift Set. This set promises an unforgettable taste of Spain's beloved culinary heritage.
View full details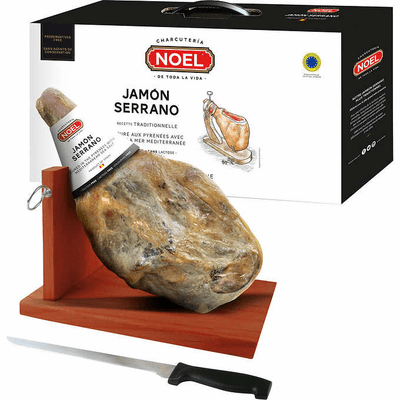 Jamon Serrano Noel Gift Set ( Includes Spanish Serrano Ham, Jamonera & Traditional Jamon Knife )