Sku:

SP998123

Vendor: Cinco Jotas
Jamon Iberico de Bellota Paleta (Shoulder) Cinco Jotas 9 - 10 lbs.
Jamon Iberico de Bellota
The Finest Spanish Hams In The World
Limited Quantities - On Sale Today!
After much anticipation, Jamon Iberico de Bellota is available in the United States. Thankfully, Spain's Cinco Jotas brings us it's premium iberico de bellota spanish ham just in time for the holidays.Cinco Jotas Iberica de
Bellota Spanish hams are made from the hind limbs (shoulder) of Iberian pigs raised in the vast pastures of the Iberian Peninsula and fed a steady diet of acorns during the Montanera fattening period. The term bellota means acorn in spanish.During the production process, the ham is cooled and cut in a V shape, the outer fat is removed, then it is salted, cleaned, weighed, dried and cured in natural cellars.Once the acorn hams have been cured in cellars, they go through a rigorous selection process to ensure that only the best pieces, which reach the most exquisite organoleptic standards and which offer unrivalled quality,
are finally chosen to bear the '5J' label. 5J Ham has a lingering aroma and an incomparable taste and bouquet.So where exactly do these premium spanish hams come from? The answer is Jabugo, Spain. Jabugo is a town located in the province of Huelva, Spain. Practically, the entire town of Jabugo is devoted in one way or another to the production of jamón ibérico thus making the word "jabugo", synonymous with jamon iberico.
Today, Cinco Jotas has a presence in spanish restaurants and gourmet delicatessens in the most prominent cities around the world: Madrid, Barcelona, Paris, London, Milan, Moscow…
* Please note USDA guidelines require the Hoof removed prior to importation to the United States.
* Signature required upon UPS delivery
View full details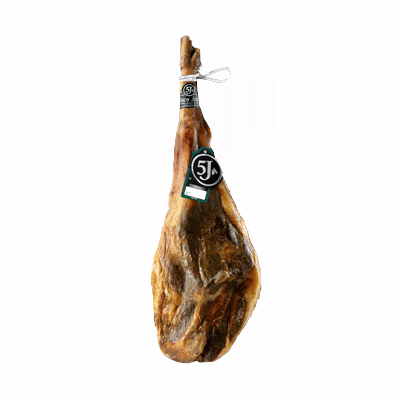 Jamon Iberico de Bellota Paleta (Shoulder) Cinco Jotas 9 - 10 lbs.