Sku:

PU020

Vendor: Amigo Foods Store
DIET Inca Kola 12-Pack 12 oz.
Experience the authentic taste of Peru with Diet Inca Kola. This beloved Peruvian soda, often referred to as "The Golden Kola," offers a unique and delightful flavor that's hard to find elsewhere.
Key Features:
Authentic Peruvian Recipe: Each can of Diet Inca Kola is brewed with the traditional Peruvian recipe, offering an authentic taste experience.
Distinctive Flavor: Enjoy the one-of-a-kind, lightly sweet, and refreshingly herbal taste that has captured the hearts of soda lovers worldwide.
Diet Friendly: Diet formula delivers the same great taste of Inca Kola without the added calories, making it a perfect choice for those watching their sugar intake.
Perfect for Any Occasion: Whether it's a family gathering, a festive celebration, or a quiet evening at home, Diet Inca Kola is the perfect beverage to complement any moment.
Benefits:
Cultural Connection: Each sip transports you to the heart of Peruvian culture, offering a taste of its rich culinary heritage.
Ideal for Mixology: Experiment with Diet Inca Kola in your cocktail recipes for an exciting twist on classic drinks.
Versatile Drink: Perfect as a standalone refreshment or as a complement to a wide variety of meals and snacks.
Dive into the unique taste of Peru with our Diet Inca Kola. Add a pack to your cart today and savor the flavor that Peru has to offer!
View full details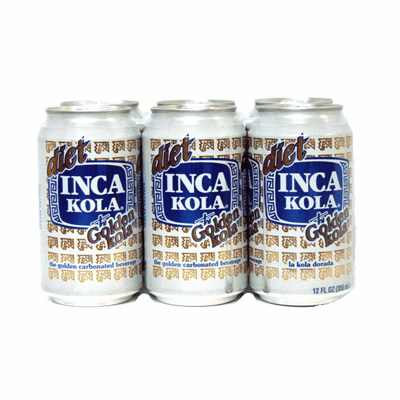 DIET Inca Kola 12-Pack 12 oz.