Sku:

PU015

Vendor: Amigo Foods Store
Inca Kola 12 Pack 12 oz. Cans
Discover the unique taste of Peru with authentic Inca Kola 12 Pack!
Each pack contains 12 refreshingly crisp 12 oz. cans of Peru's beloved "Golden Kola." Inca Kola, a true Peruvian treasure, stands out with its vibrant yellow color and its distinctively sweet, fruity flavor that tantalizes the taste buds like no other soda.
Key Features:
Authentic Peruvian Flavor: Experience the original taste of Inca Kola, a national favorite in Peru.
Unique Taste: Enjoy the unique combination of citrus and sweet flavors that make Inca Kola a delightful treat.
Perfect for Any Occasion: Whether it's a family gathering, a party, or just a relaxing day at home, Inca Kola is the perfect refreshment.
Versatile Pairing: Pairs excellently with a variety of foods, especially spicy and savory dishes.
Why Inca Kola? Inca Kola has a rich history dating back to its creation in Peru. It's not just a soda, it's a part of Peruvian culture. This iconic beverage offers a taste experience that is both exotic and familiar, making it a favorite for those seeking something different in their refreshment choices.
Ideal for Everyone: Whether you're a longtime fan or new to Inca Kola, this pack offers the perfect opportunity to enjoy or share this unique soda. It's also a great choice for multicultural events or for those looking to explore international flavors.
Get Your Inca Kola Today! Don't miss out on this delightful Peruvian classic. Add a pack of Inca Kola to your cart today and savor the sweet, effervescent joy of Peru's favorite soda!
View full details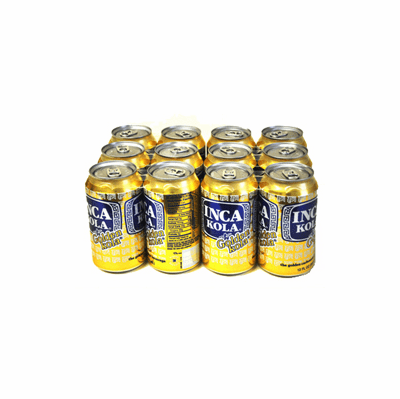 Inca Kola 12 Pack 12 oz. Cans