Sku:
Vendor: Amigo Foods Store
Iberia Cockles in Brine (Berberechos al Natural) 4 oz.
Savor the authentic flavor of the Spanish coast with our exquisite Iberia Cockles in Brine (Berberechos al Natural), imported directly from the bountiful waters of the Iberian Peninsula. Each 4 oz tin is a treasure trove of the finest, hand-harvested cockles, carefully selected and preserved in a delicate brine to maintain their natural taste and texture.
Key Features:
Authentic Spanish Delicacy: Indulge in the traditional flavors of Spain. Iberia Berberechos are a staple in Spanish cuisine, perfect for creating an authentic tapas spread or enhancing your gourmet recipes.
Hand-Harvested Perfection: Each cockle is harvested with care from the pure Atlantic waters, ensuring the highest quality and preserving the ocean's natural bounty.
Natural Brine Preservation: The cockles are preserved in a lightly salted brine, which accentuates their fresh, sea-kissed flavor without overpowering it.
Ready to Serve: Conveniently prepared and ready to eat, these cockles can be enjoyed straight from the tin or used to add a touch of sophistication to any dish.
Premium Packaging: Sealed in an easy-to-open tin, Iberia cockles are perfect for preserving freshness and flavor, ensuring a premium experience with every bite.
Tasting Notes:
Experience a delicate texture that is both tender and firm, coupled with a subtle briny flavor that encapsulates the essence of the Atlantic Ocean. Iberia Cockles are perfect for pairing with a crisp white wine, adding an exquisite touch to salads, or serving as a sophisticated appetizer with a squeeze of fresh lemon and a pinch of parsley.
Usage Tips:
Turn any meal into a Spanish fiesta with these versatile cockles. Elevate your seafood pasta, bring depth to paellas, or simply serve them as part of a luxurious charcuterie board. They are an exceptional ingredient for chefs and home cooks alike, looking to add a gourmet twist to their culinary creations.
Embrace the flavors of Spain's coastal cuisine with our Spanish Iberia Cockles in Brine – a gourmet delight that promises to transport your taste buds to the shores of Spain with every succulent bite.
View full details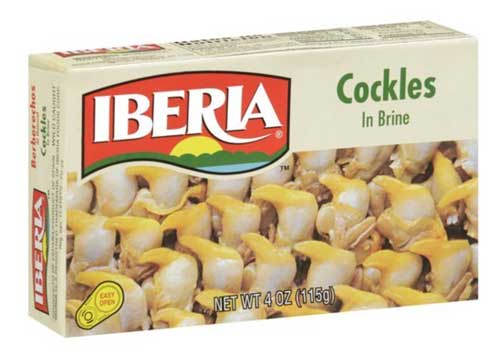 Iberia Cockles in Brine (Berberechos al Natural) 4 oz.