Sku:

A10009

Vendor: Amigo Foods Store
Guarina Saladitas Galletas 10.15 oz.
Dominican Guarina Saladitas Galletas are crafted with care in the heart of the Dominican Republic, these crackers embody the essence of traditional island cuisine.
Key Features:
Authentic Dominican Recipe: Experience the true taste of the Caribbean with Saladitas Galletas, made using a time-honored Dominican recipe that brings the flavor of the islands straight to your table.
Versatile Snack: Perfect for any occasion, these crackers are an ideal companion for your cheese platters, dips, or simply enjoyed on their own as a savory snack.
Convenient and Fresh:

The 12 individual packages ensures that the crackers remain crisp and fresh, perfect for on-the-go snacking, lunchboxes, or pantry storage.

Crisp and Flavorful: Each cracker is baked to perfection, offering a satisfying crunch and a rich, savory flavor that complements a variety of toppings and spreads.
Ideal For:
Snack enthusiasts seeking a taste of the Caribbean.
Those looking for a versatile cracker for their culinary creations.
Health-conscious consumers who appreciate non-GMO, preservative-free options.
Experience the Taste of the Dominican Republic:
Guarina Saladitas Galletas are not just a snack; they're a journey to the vibrant streets of the Dominican Republic.
Whether you're hosting a party, looking for a tasty snack, or simply want to experience the authentic flavors of the Caribbean, these crackers are your perfect choice.
Dive into the rich, savory world of Dominican cuisine with Guarina Saladitas Galletas. Add to your cart today and bring the essence of the Caribbean to your kitchen!
View full details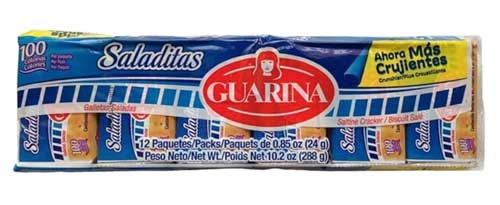 Guarina Saladitas Galletas 10.15 oz.