Sku:
Vendor: Amigo Foods Store
Goya Tropical Crackers 12 oz.
Discover the irresistible crunch and delightful taste of Goya Traditional Crackers, your new go-to snack for every occasion.
These crackers, a proud offering from the renowned Goya brand, are meticulously crafted to offer a perfect balance of flavor and texture.
Key Features:
Authentic Taste: Enjoy the classic, savory flavor that has made Goya a household name. Perfectly seasoned, these crackers are a testament to Goya's commitment to authentic, quality snacks.
Versatile Snacking: Whether you're pairing them with cheese, spreading them with your favorite dip, or enjoying them straight out of the box, Goya Crackers are incredibly versatile. They're an excellent addition to any snack platter or meal.
Crunchy Texture: Each cracker is baked to golden perfection, ensuring a satisfying crunch in every bite. Their sturdy texture makes them ideal for dipping and topping without breaking.
Wholesome Ingredients: Made with quality ingredients, these crackers are a snack you can feel good about. They're perfect for health-conscious individuals and families alike.
Usage Suggestions:
For Entertaining: Elevate your charcuterie boards or appetizer spreads with the unique flavor of Goya Crackers.
Family Snacking: A great addition to your family's snack rotation, appealing to both kids and adults.
Quick Bites: Keep a box in your office or bag for a convenient, tasty snack anytime.
Why Choose Goya Crackers:
Goya Crackers are more than just a snack; they're a versatile, delicious addition to any eating occasion. Whether you're hosting a party, packing a lunch, or simply craving something crunchy and satisfying, these crackers are sure to delight. Experience the quality and flavor that Goya is known for, in every crunchy bite.
View full details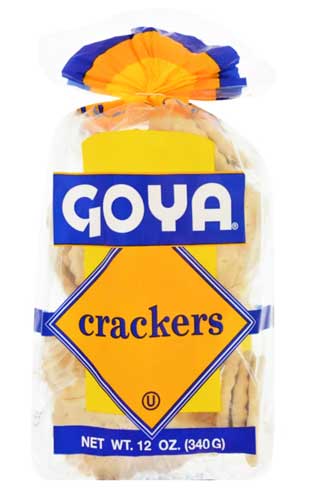 Goya Tropical Crackers 12 oz.