Sku:
Vendor: Amigo Foods Store
Goya Premium Wild Caught Sardines in Olive Oil 4.25oz
Introducing the Taste of Spain: Goya Premium Wild Caught Sardines in Olive Oil 4.25oz
Are you ready to embark on a culinary journey to the heart of Spain? Look no further than Goya Premium Wild Caught Sardines in Olive Oil, a delectable seafood delicacy that brings the flavors of the Mediterranean to your table.
Goya sardines are meticulously sourced from the pristine waters of the wild, ensuring you get the freshest and most succulent sardines available. With each bite, you'll experience the rich, authentic taste of the ocean, as these sardines are caught at the peak of their flavor and carefully preserved in premium quality olive oil.
Why choose Goya Premium Wild Caught Sardines in Olive Oil?
Superior Quality: Goya prides themselves on delivering sardines of unparalleled quality. These wild-caught sardines are selected for their plumpness and taste, ensuring a superior dining experience.

Mediterranean Flavor: Immerse yourself in the vibrant flavors of the Mediterranean. Goya's sardines are marinated in luscious olive oil, infusing each bite with the essence of Spain's culinary tradition.

Rich in Omega-3: Sardines are known for their health benefits, especially their high Omega-3 fatty acid content. Enjoy a delicious meal while nourishing your body.

Versatile: Whether you're a gourmet chef or a home cook, these sardines are incredibly versatile. Serve them on crackers, toss them in a salad, or use them as a savory pizza topping – the possibilities are endless.

Convenient Packaging: These 4.25oz cans are the perfect portion size for a snack or a meal. The easy-to-open can makes it convenient for on-the-go enjoyment.

Goya Quality Assurance: With over 85 years of experience, Goya is a trusted name in the food industry. They take pride in delivering products of the highest quality to your kitchen.
Experience the authentic taste of Spain with Goya Premium Wild Caught Sardines in Olive Oil. Elevate your meals with the exquisite flavor of these sardines and indulge in a Mediterranean culinary adventure like no other. Order yours today and savor the taste of Spain at your fingertips!
View full details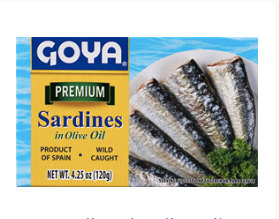 Goya Premium Wild Caught Sardines in Olive Oil 4.25oz