Sku:

V2232

Vendor: Amigo Foods Store
Fress Kolita 6-Pack 12oz.
Indulge in the unique taste of Venezuela with Fress Kolita 6-pack!
Each sip of Fress Kolita transports you to a tropical paradise, offering a burst of vibrant, sweet flavor that's a staple in Venezuelan households.
Key Features:
Authentic Venezuelan Flavor: Experience the genuine taste of Venezuela's beloved Fress Kolita, a must-try for soda enthusiasts and cultural explorers.
Tropical Sweetness: A perfect blend of exotic fruit flavors, providing a refreshing, sweet escape in every can.
Six-Pack Convenience: Ideal for sharing with family and friends, this 6-pack ensures you always have a taste of Venezuela at hand.
Versatile Beverage: Enjoy it chilled for a refreshing drink, or use it as a unique mixer in tropical cocktails.
Cultural Connection: Embrace the vibrant Venezuelan culture with a drink that's an integral part of social and family gatherings.
Why Choose Fress Kolita?
Crafted with a recipe that captures the heart of Venezuela, Fress Kolita is more than just a soda; it's a cultural experience. Its delightful sweetness and effervescence make it a favorite among all ages.
Ideal for parties, picnics, or a relaxing day at home, Fress Kolita brings a touch of Venezuelan joy to any occasion.
Order now and savor the unique taste of Venezuela with Fress Kolita!
View full details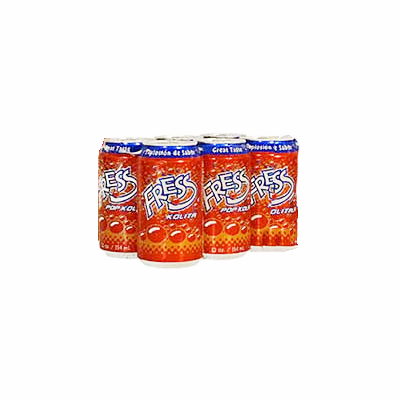 Fress Kolita 6-Pack 12oz.