Sku:

SP7760

Vendor: Amigo Foods Store
Foods Of Spain Gift Basket
Taste the Flavors
of Spain
Celebrate with Spanish Flare
Make the holidays a memorable one. Enjoy this Spanish holiday gift basket with all the best Spain has to offer.
Includes one each of the following;
Cima Asturian Sparkling Cider 23oz
Carbonell Spanish Olive Oil 24 oz
Borges Garlic Wine Vinegar
Goya Jumbo White Asparagus 13oz
Goya Pimientos Piquillo al Ajillo 10.5 oz.
Goya Hot Pimiento Stuffed Olives 5.5 oz
Palacios Jamon Serrano in Slices 100 grs.
Iberia Clams in brine 4oz
Goya Tunafish Oil & Vegetables 4 oz.
Manchego Cheese Wedge Approx. 200 grs.
Palacios Genuine Spanish Chorizo 7.9oz
Castillo de Jijona Turron Alicante 200 grs.
Castillo de Jijona Turron Jijona 200 grs.
Castillo de Jijona Turron Yema Tostada 200 grs.
Sanchis Mira Membrillo Español 14 oz.
Cola Cao Instant Chocolate Drink Mix 14 oz.
Chiquilin Spanish Saffron in Filaments (Hebras de Azafran)
*If an item is out of stock, we may substitute products of equal or greater quality from those listed above.
View full details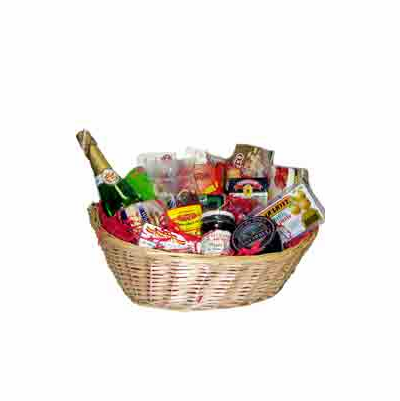 Foods Of Spain Gift Basket