Sku:

SP99891

Vendor: Sanchis Mira
Figuritas Mazapan Sanchis Mira 200 grs. (7 oz.)
Indulge in the rich and delicate tradition of Spanish confectionery with Figuritas Mazapan by Sanchis Mira. Crafted with precision and passion, each piece embodies the spirit of Spain and the time-honored art of mazapán making.
Key Features:
Authentic Taste: Sourced and produced in Spain, these marzipan figurines deliver the genuine flavor and texture of traditional Spanish mazapán.
Artisanal Shapes: Delight in an assortment of beautifully crafted shapes, each telling a unique story of Spanish culture and festivity.
Premium Ingredients: Made with a simple blend of almonds and sugar, these treats are free from artificial additives, promising an all-natural bite every time.
Perfect for Gifting: Encased in an elegantly designed bag, it makes a thoughtful gift for the holidays, special occasions, or simply for anyone with a sweet tooth.
Net Weight: 200 grs. (7 oz.), ensuring plenty to savor or share with loved ones.
Tasting Notes: Bite into the soft and luscious texture of the mazapán, revealing a subtly sweet almond core that lingers on the palate, transporting you to the streets of Spain with every nibble.
Pairing Suggestions: Pair your Figuritas Mazapan with a glass of Spanish sherry or a hot cup of café con leche for an exquisite culinary experience.
Storage Instructions: Keep in a cool, dry place away from direct sunlight. Best consumed within a month of opening for optimal freshness.
---
Embrace a moment of pure Spanish indulgence with Figuritas Mazapan Sanchis Mira. Each piece is not just a treat, but a journey into the heart of Spain's beloved dessert heritage.
View full details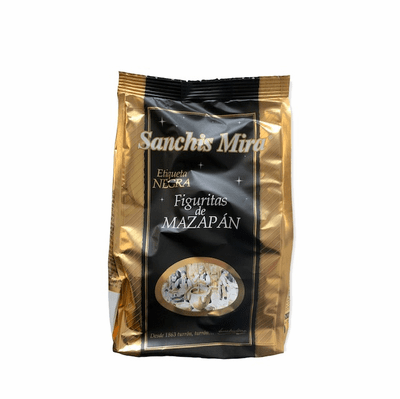 Figuritas Mazapan Sanchis Mira 200 grs. (7 oz.)