Sku:

SP10101

Vendor: El Antiguo
El Antiguo Turron de Jijona Suprema Quality 200 grs / 7 oz
Indulge in the exquisite taste of Spain with El Antiguo Turron de Jijona Suprema Quality. This 200g / 7 oz bar of authentic Spanish nougat is a delightful blend of tradition and flavor, perfect for connoisseurs and sweet-toothed explorers alike.
Key Features:
Authentic Spanish Delight: Crafted in the heart of Jijona, Spain, this turron is a genuine representation of traditional Spanish confectionery.
Supreme Quality Ingredients: Made with the finest selection of almonds and honey, this turron offers an unrivaled quality that promises a melt-in-your-mouth experience.
Rich Texture and Flavor: Enjoy the creamy, smooth texture and the deep, sweet flavor that comes from generations of expert confectionery art.
Versatile Enjoyment: Perfect as a festive treat, a luxurious gift, or a delightful accompaniment to coffee or tea.
Convenient Packaging: The 200g / 7 oz size is ideal for sharing or savoring over time, and the elegant packaging preserves its freshness and flavor.
Why Choose El Antiguo Turron de Jijona?
El Antiguo is synonymous with excellence in Spanish nougat. El Antiguo Turron de Jijona Suprema Quality is not just a sweet treat; it's a cultural experience. Each bite takes you on a journey through the rich history and culinary expertise of Spain.
Perfect for Every Occasion:
Whether you're celebrating Christmas, looking for a unique gift, or simply craving a luxurious sweet, El Antiguo turron is an ideal choice. Its rich history and decadent flavor make it a timeless delicacy.
Experience the Best of Spanish Confectionery:
Order your El Antiguo Turron de Jijona Suprema Quality today and immerse yourself in the sweet essence of Spanish tradition!
View full details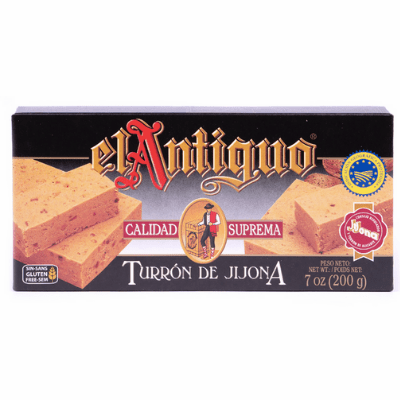 El Antiguo Turron de Jijona Suprema Quality 200 grs / 7 oz