Sku:

SP1010

Vendor: El Antiguo
El Antiguo Turron de Alicante 200 grs / 7 oz Suprema Quality
Indulge in the authentic taste of Spain with El Antiguo Turron de Alicante, a 200-gram (7 oz) delight that exemplifies Suprema Quality. This traditional Spanish nougat, crafted with the finest ingredients, offers a unique culinary experience.
Key Features:
Authentic Spanish Delicacy: Savour the true essence of Spanish confectionery with this traditional Turron de Alicante.
Suprema Quality Ingredients: Made with premium almonds and honey, this nougat offers a rich and natural flavor that is unmatched.
Perfect Texture: Experience the satisfying crunch of perfectly roasted almonds, harmoniously blended with the sweetness of honey, encased in a delicate wafer.
Traditional Recipe: El Antiguo's recipe has been perfected over generations, ensuring a consistent, high-quality taste that brings the Spanish culinary tradition to your home.
Versatile Treat: Ideal for festive occasions, as a gourmet gift, or simply as a delightful snack to enjoy any time.
Conveniently Packaged: The 200 gr / 7 oz size is perfect for sharing or indulging in a personal treat.
Health-Conscious Choice: Gluten-free and made with natural ingredients, suitable for a variety of dietary preferences.
Ideal For:
Gourmet food enthusiasts looking for authentic Spanish treats.
Those seeking high-quality, traditional nougat with natural ingredients.
Perfect as a gift for holidays, special occasions, or as a luxurious addition to dessert platters.
View full details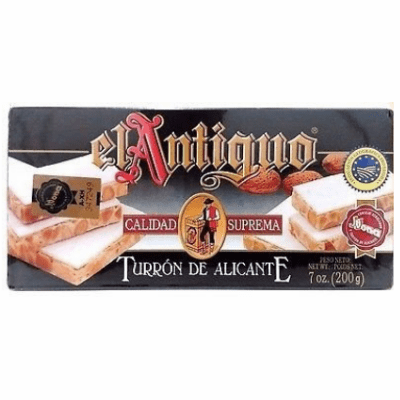 El Antiguo Turron de Alicante 200 grs / 7 oz Suprema Quality